PRESS RELEASE
NCIS Surveillance Video
---
Burlingame, Calif. - Naval Criminal Investigative Services (NCIS) had surveillance video of a suspect's vehicle passing a security camera. Although the vehicle was in clear view, the letters on the license plate were unreadable.

At a training session, a NCIS analyst used Ikena Forensic to reconstruct the characters on a license plate using Ikena's super-resolution (which combines the best information from multiple frames of video) and MotionDSP's patented de-interlacing algorithm. Immediately, the license plate characters were visible.

With the license plate details in hand, the Navy was able to conduct a database search that led to a positive ID of the perpetrator.
About MotionDSP
MotionDSP is headquartered in Burlingame, California and is led by an experienced management team, trained at Stanford University and the United States Naval Academy. With subject matter experts and the brightest engineers in their fields, MotionDSP creates powerful solutions to the industry's toughest problems.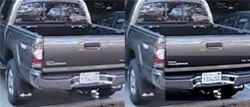 Request more info from MotionDSP
Thank You!