PRESS RELEASE
New PlanView Emergency Operations Command Overview Multi-Track Sliding Whiteboard System
---
July 2013 - Magnatag's new PlanView multiple track cabinets hold up to 10 sliding magnetic steel whiteboards, maps and bulletin panels, turning an ordinary wall into a flexible, easy to use visible information center. A Rocky Mountain Search and Rescue operation says, "Our PlanView boards give us an overview. They hold all the relevant details about the subject and search plan. Before, we kept everything on paper making it hard for multiple people to read and update.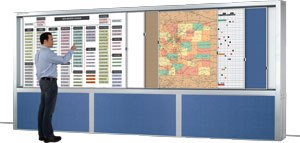 Having all the information in front of the planning group works much better and allows teams to self brief." A Department of the Navy operations team leader from Virginia says, "We use it as a multi-purpose information center. We slide the boards out for briefings and use the front panel to cover sensitive information. It's nice to be able to put our own maps on the boards and change them when we want. The fact that it can be moved is important if we ever have to change facilities."

"Emergency management leaders tell us PlanView board systems provide a focal point for managing their operations" says Magnatag spokesperson Christian Krapf. "PlanView is ideal for organizing multiple priorities. Available with a wide selection of magnetic dry-erase sliding panels including customizable Emergency Command Structure Organization Charts, Assignment boards, Status boards, Maps and magnetic Calendars that can be interchanged with out the use of tools. PlanView fits existing rooms. It attaches to the wall but stands on the floor and quickly assembles with just a screwdriver and carpenter's level"

Built to stay like new for a lifetime of daily use, PlanView's compact space saving design comes in several widths with up to 10 tracks. A13' wide cabinet holds up to 73 linear feet of boards. For full details go to www.magnatag.com/PLANVIEW or call 800 624 4154 and talk to a visible systems specialist.

Magnatag® Visible Systems, designs, manufactures and direct-markets over 2,300 magnetic printed whiteboard kits, calendar planners, maps, custom boards, WhiteWalls, RotoCube Bulletin Towers, magnets, whiteboard accessories and other information display systems for industry, hospitals, schools, business and government. A veteran-owned family company founded in 1967. See their website at www.magnatag.com or call 800-624-4154