7 essential tools every K-9 handler needs
Do you have the right gear to outfit, train and reward your K-9 – or family pet – successfully?
---
Sponsored by Ray Allen Manufacturing
By Rachel Zoch, Police1 BrandFocus Staff
Cops and canines go way back, with the first modern police dogs joining the London Metropolitan Police Force in 1888 to track suspects in search of Jack the Ripper. From bloodhounds to German shepherds, several working breeds have served alongside human officers ever since. Like any officer, a K-9 needs the right training and gear for the job.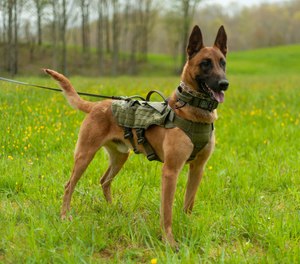 Police1 spoke with Matt Akenhead, an experienced K-9 trainer and vice president of sales and product development at Ray Allen Manufacturing, to learn about the essential items every K-9 handler or working dog owner needs.
1. COLLAR
You need to be able to manage and control the dog, and the basic tools for that are a collar and leash. Consider both your environment and your dog's mission or activities when choosing a collar.
"You want to evaluate the environment you're in and what does your dog get called to do most of the time," said Akenhead. "If my dog is running an interdiction and I'm working him on cars three days a week because I'm hunting dope traffickers, I'm going to think about my kit differently."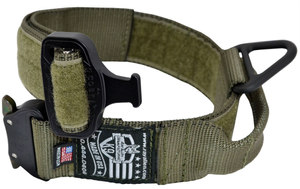 For wet conditions and high activity, he recommends a collar made of synthetic materials for durability with a Cobra buckle for a secure closure. Saltwater and humidity are hard on leather, he says, but leather can be a good option for dogs in inland or arid areas.
"If you're always in the mud, if you're in West Virginia, then the synthetic lines are great because you're usually tracking in the wet and in the mud," he said. "If you're in New York City or a place that you're not looking at a huge number of days of rain, it doesn't matter so much."
2. LEASH
A leash is the other half of any basic K-9 control package, and what's best for your dog again depends on where you are and what you'll be doing.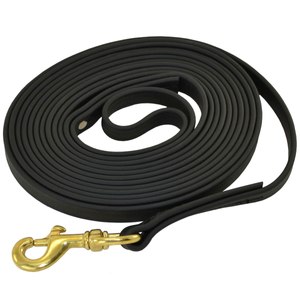 "The first thing I want to know is what type of weather and what part of the country you live in," said Akenhead. "If you're in a heavy saltwater area, typically I'm going to want something that's a synthetic leather, like a Biothane or a RAM-Tech type material, because it's easy to clean, it's easy to dry off, it doesn't soak up water, those sorts of things."
If you will be running with your dog, he recommends looking for a leash with some stretch to it, perhaps something elastic or a bungee. Leather is also a classic option, and Ray Allen craftsmen use heavy-duty harness leather to create strong leads.
3. HARNESS
A harness may be optional for pet owners, but every police K-9 operator will need one, says Akenhead, and choosing the right harness for your K-9 again depends on the dog's mission.
When working with customers to determine what product would best fit their needs, Ray Allen reps start with a series of questions like: Are you lifting or rappelling? Are you lowering dogs into a scenario? Are you having to pitch a dog up into an attic or a second floor?
There are plenty of special-purpose harnesses and accessories out there, but the new Nomad harness from Ray Allen offers a modular system. The interchangeable harness system has two parts: the frame (a fully functional harness) and the body. This system allows users to interchange the harness frame with different types of body capes to quickly equip your dog for any situation.
"The harness, the leash attachment points, the handle and how the harness works and fits is the same every time – you just change the accessory piece out," said Akenhead. "All the attachment points and everything you do with that harness is the exact same every single time."
Ray Allen developed the interchangeable harness system over the past couple of years to provide a go-to harness that gives handlers the ability to economically customize their gear. Each manufacturer has its own design, so different pieces from different sources generally don't work together.
"They wouldn't have the same functionality. The leash attachment points will be different, and they wouldn't have the same handle," said Akenhead. "They won't have all that stuff in the same places, and it won't be the same hardware."
This means you're buying all that hardware again, he adds, because an added cape or ballistic vest will also have all the leash attachment points and clips and buckles – and in different places. Instead, the Nomad harness provides a single base frame that can accommodate multiple specialized accessories, like a jacket (woobie) or a ballistic vest, on a single harness with uniform attachment points and hardware.
4. REWARD & EXERCISE
It's important to reward working dogs for executing the behaviors you want, and that's usually in the form of praise and a toy. Try out a few different toy styles – a ball, a ball on a rope, a tug – to see what your dog responds to best. The same applies to exercise.
"A lot of that stuff is dog-dependent," said Akenhead, "so if the dog happens to really work well for a ball, you're going to use the ball. If he works well for a tug tool, you're going to use some kind of rolled jute or synthetic tug toy."
It's important to recognize the distinction between a reward toy and a chew toy, he adds. A reward toy is a training tool presented to the dog selectively to reinforce desired behaviors, and interaction is the key element in the reward. A chew toy would be or something that you give the dog to enjoy how and where he chooses, like a Nylabone or a KONG Ball.
"With a reward toy, I'm not going to hand it to him, let him wander around the house, lay down and tear it apart because they're just going to destroy it," said Akenhead. "I'm going to give it to him when he executes against the behavior I want. That toy is his paycheck for doing his job. Now, he's not allowed to go out and eat the paycheck."
Be careful about what the toys are made of, whether for reward or other purposes, warns Akenhead. A common mistake is giving dogs real tennis balls that you would use on a tennis court, because they tend to contain a lot of silica, which is hard on dogs' teeth and wears the enamel.
Jute, a tough fiber similar to burlap, is a good natural option. There are many synthetic fibers on the market as well, but the higher the nylon content in a product, the harder it is on a dog's teeth, says Akenhead. Ray Allen uses Syntek, a balanced nylon-cotton blend, for its synthetic tug toys.
5. MUZZLE
A muzzle is an important item for training and safety, especially when you're training for socialization around strangers or visiting the vet. There are a number of different options, materials and styles available, from wire cages to leather baskets to nylon mesh, but Akenhead recommends an adjustable soft muzzle like the RAM muzzle, that can be used for both training purposes and visits to the vet.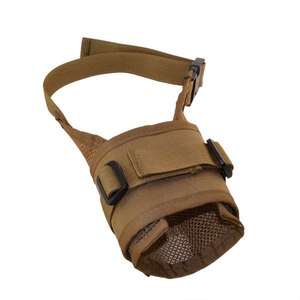 Made of Cordura and lightweight mesh, the RAM muzzle is durable but breathable, adjustable and easy to use. This helps you get the most potential use out of the muzzle, as it can be adjusted as the dog grows, or for use with different dogs.
"It keeps the dog from widely opening his mouth, but he can still lick his nose and breathe and pant," said Akenhead. "It's basically to keep somebody from getting hurt, because once the dog is injured you don't know what he's going to do. If a dog is in distress, the likelihood of him to make bad decisions goes up."
6. KENNEL
You also need to be able to transport your dog safely. Police K-9 officers should be outfitted with cruiser inserts and heat alert systems for safe travel, but when you're transporting a dog in a regular vehicle, it's important to have a sturdy kennel to protect the dog in case of accident.
"If I'm hauling my dog around, I'm going to want him in something that keeps him from ejecting across the vehicle or into my head if we were in an accident," said Akenhead.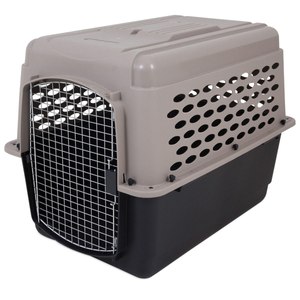 He recommends a molded plastic kennel like the Vari-Kennel for transport and advises against traveling with a wire kennel. Wire is fine for home use as long as the dog tolerates it well, he says, adding that a wire kennel provides more ventilation. However, what you're looking for in a kennel is safety in transport and comfort in the home, and the Vari-Kennel can provide both.
7. FIRST AID
When it comes to first aid for your K-9, says Akenhead, consult the expert – your vet – first. But having some kind of basic first aid kit on hand is a good idea.
Again, the supplies you'll need depend on your environment and your dog's mission. For example, you might need Narcan for a drug interdiction dog, or Coldflex (aka vet wrap) for a dog in a rural area so you can wrap an injury or wound before you get to the vet.
The complete first aid kit from Ray Allen includes a wealth of supplies, including gloves, wipes, wound powder, ointment and several kinds of gauze, as well as a cold pack and a tourniquet.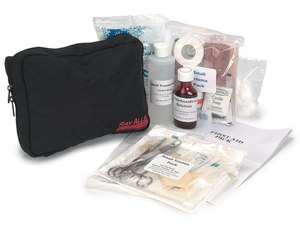 Rural dogs typically do more damage to their paw pads because of thistles and hazards they encounter tracking people in the outdoors, says Akenhead, whereas in the city, they're more likely to suffer abrasion-related issues from walking on concrete or injuries from suspect encounters.
BONUS: Shedding Control
The classic police dog is the German shepherd, aka "German shedder," but most of the working breeds shed in the spring and grow more fur in the winter. Akenhead recommends the Furminator to help control the excess fur.
"As far as removing undercoat, there's hardly anything that works better," he said. "Furminator has been the pioneer of that style of comb, and it just removes everything. It will help pull out all the undercoat as they shed so you get less hair in the house and you get all the loose hair out."
Do you have the right gear for your dog? Ray Allen Manufacturing has supplied K-9 products for police and the military for more than 70 years, as well as the general public. Consider the essentials listed above and choose what's best for your K-9.
Get more information from Ray Allen Manufacturing and check them out on Instagram.
READ NEXT: Spotlight: Ray Allen Manufacturing, the world leader in professional K-9 equipment
Request information from Ray Allen Manufacturing
Thank You!