PRESS RELEASE
Tactical Electronics Reveals New Under Door Camera with Two Cameras
---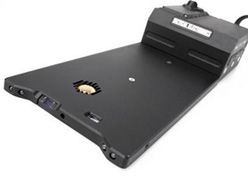 BROKEN ARROW, Okla. – Tactical Electronics, manufacturer of elite wireless camera systems and EOD tools for military and law enforcement agencies, has just introduced an Under Door Camera with two cameras, providing forward and upward camera views.
The Under Door Camera Pro increases the visual access available to special operations and tactical teams when inspecting unsecure rooms and barricaded areas. When inserted under a door the 2-camera system allows operators to inspect both the interior of a room and the interior side of the door. Real-time video is transmitted to a wireless PRO Monitor and with one button allows you to switch from forward and upward camera views. The new PRO Monitors are available in a Handheld or Wrist Mounted version.
Weighing less than 17 ounces, the UDC Pro houses an SD card recorder and wireless transmission system. The unit is powered by 3-Volt lithium batteries and measures less than 10 inches in length.  The all-in-one wireless design eliminates the need for battery packs and additional cords.
The UDC Pro kit includes the UDC Pro Camera, one Pro Monitor, 16 Gb SD card, Storm Case©, and a Telescoping Deployment Pole. The Telescoping Deployment Pole extends up to 20 feet and allows operators to quickly deploy the UDC Pro from a position of cover. The end of the pole adheres to the camera unit with a magnetic quick release attachment. The unit can then be extended into place and swiveled under a door or around a corner. The telescoping pole can also be retrofitted to the earlier Under Door Camera 4 version.
"Having visual access to what lies inside a room and on the doors' interior is vital for our tactical operators and first responders," said Tim Thornton, president of Tactical Electronics. "Our customers expressed a need for the ability to see if a door is booby trapped before they enter," Thornton said. "Domestic threats have increased and developing a camera system that covertly and unobtrusively inspects the interior side of a door is crucial for operator safety, as we witnessed in Aurora, Colorado."
Tactical Electronics created the first Under Door Camera with one camera in 2006 and has sold over 600 units. With over 13 years of experience in the military and tactical operations industry, Tactical Electronics engineers and manufacturers wireless camera systems that aid officers before making entry.

For more information and pricing on the UDC Pro kit please visit www.tacticalelectronics.com/UDCPro.
About Tactical Electronics
Tactical Electronics provides wireless camera systems, IED training aids, EOD tools, and training to law enforcement and military agencies. For over a decade Tactical Electronics has been a reliable resource to lead law enforcement agencies and trend-setting military groups. Whether we are providing high-level electronics training or designing top-notch products, our goal is to deliver safety to those who protect us.

Request more info from Tactical Electronics
Thank You!