PRESS RELEASE
Warner Robins Police Department receives K-9 Tactical Electronics Camera through Grant
---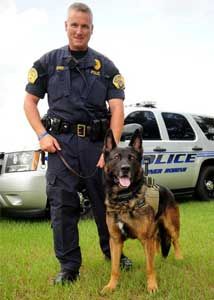 WARNER ROBINS, Ga. – A Tactical Electronics K-9 Back Mounted Camera was awarded to Warner Robins Police Department, Tuesday, August 14, 2012. The department applied for the camera through the SPA-National Tactical Officers Association Grant Program. This program provides lifesaving equipment to tactical teams that may otherwise not be able to obtain this equipment.
The Tactical Electronics K-9 Camera mounts to the back of the dog via harness and allows the handler to view real-time video on a wrist mounted monitor, while the K-9 is searching an area. The camera features a built in DVR and records the video and audio for after action review and archiving. The light sensitive camera and IR flood illuminator provide vision in low ambient light environments.
Warner Robins began their canine program in 1995 and has since grown to consist of three canines functioning in patrol, narcotics detection, and tracking. WRPD states, "there will always be unknown variables during tactical situations, but every effort is used by WRPD SWAT to lessen the unknowns with detailed surveillance and actionable intelligence gathered."
WRPD is one of eight agencies in the U.S. using the K-9 cameras. Early this year Portland, Oregon Police Department outfitted their entire unit with the K-9 cameras. "Police dogs go into dangerous situation to protect us. Now, Portland's police have a new tool to help them track criminals in up to 100 high-risk searches a year," KOIN Local 6 reported.
About Warner Robins Police Department
The City of Warner Robins is located in northern Houston County.  Warner Robins consists of over 35.82 square miles, approximately 66,500 people and is home to Robins Air Force Base, Georgia's largest industry. The Warner Robins Police Department will set the Law Enforcement standards in the region through practical utilization of resources and technology. It is our duty and commitment to continue improving the services to our growing community.
About Tactical Electronics
Tactical Electronics provides wireless camera systems, IED training aids, EOD tools, and training to law enforcement and military agencies. For over a decade Tactical Electronics has been a reliable resource to lead law enforcement agencies and trend-setting military groups. Whether we are providing high-level electronics training or designing top-notch products, our goal is to deliver safety to those who protect us. For more information visit www.tacticalelectronics.com.

Request more info from Tactical Electronics
Thank You!