3 lessons I learned from SHOT Show
Checking out Federal Premium's 30 Super Carry, Pepperball's new launcher and projectile, and Swampfox Sentinel's duty-grade micro reflex sight
---
Hello from SHOT Show 2022! Tuesday was a busy day for me, and I logged 11.1 miles of walking by the time I was done. I generally do a lot of walking, but today is a new record. SHOT Show is not nearly as crowded as it has been in the past 20 or so years, but this isn't necessarily a good thing. Having said that, I managed to find some products that really caught my attention. I'm sure they will catch yours also.
Federal Premium's 30 Super Carry
The most common question people asked me before Range Day was whether I was going to shoot Federal Premium's 30 Super Carry. I did.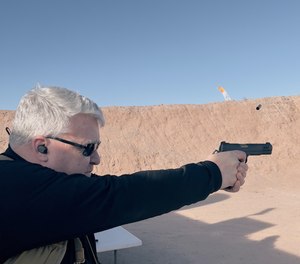 For those of you who have been living in caves, the 30 Super Carry is a cartridge designed to bridge the gap between the .380 Auto and the 9mm. I have been joking all week before SHOT about it. I would ask, "What gap?" and, "Doesn't this sound like a solution in search of a problem?"
I am, as you know, fascinated by the engineering of a new cartridge, and kept an open mind, but I'm not good at keeping my mouth shut.
The Federal HST version of the 30 Super Carry sends a 100 grain bullet into ballistic gelatin 15.5" with a .530 expansion. These are seriously good numbers for a cartridge that could potentially add two rounds to a duty magazine. The 30 Super Carry is actually .312" and about the same length as a 9mm. The design itself has all kinds of potential, including a reduced recoil, and smaller compact carry options.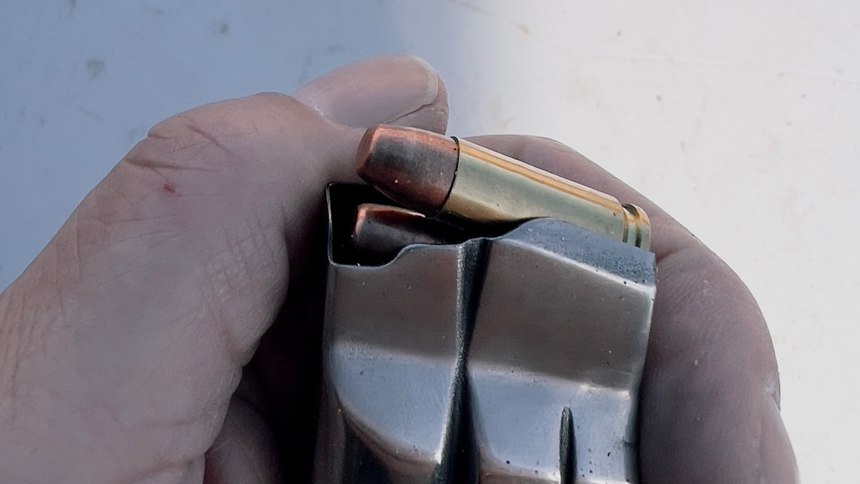 I do not anticipate a "retrofitted" 380 market. Rather, I see a completely new market for this one. Will law enforcement adopt it? Some agencies will, and it will probably help qualification numbers. I carried a 40 S&W for duty, so I have some experience with duty cartridge trends. I thought I would take a "wait and see" stance on this one.
I shot one. When I went to test the cartridge, Federal had a custom NightHawk 1911 on the range. I have shot several NightHawk Custom guns in the past. This one was one of the smoothest shooting 1911s I have handled in a long time. Nice move, Federal. Produce a new cartridge, then have us shoot it in a dream gun.
I am shopping for 30 Super Carry reloading dies right now. I'm on the 30 Super Carry bandwagon now.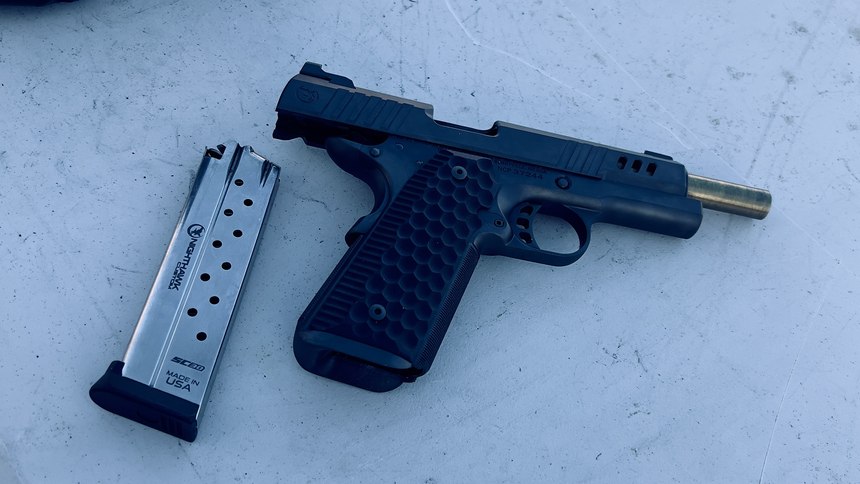 PepperBall PPC, Live-Maxx
PepperBall released two major improvements at SHOT Show 2022. One is a new launcher, the PPC, the other is the Live-Maxx projectile.
In the world of force options that increase the safety of both the officer and others, PepperBall products can be labeled "non-lethal" as opposed to "less lethal." This distinction is important. In the non-lethal world, few products can accurately launch out to 150 feet. The PPC, or PepperBall Patrol Carbine, is a lightweight launcher with a full-length Picatinny rail. It uses 6 or 10 round magazines that load into the grip. It can fire both round and extended range VXR rounds. It can use HPA (high-power air) or 88-gram CO2 cartridges. Tanks can be stowed in mounts inside the patrol car to ensure the launcher is ready at any time. There is a mid-stock cutoff and valve system that gives the launcher a quick tank swap and ensures reliable deployment.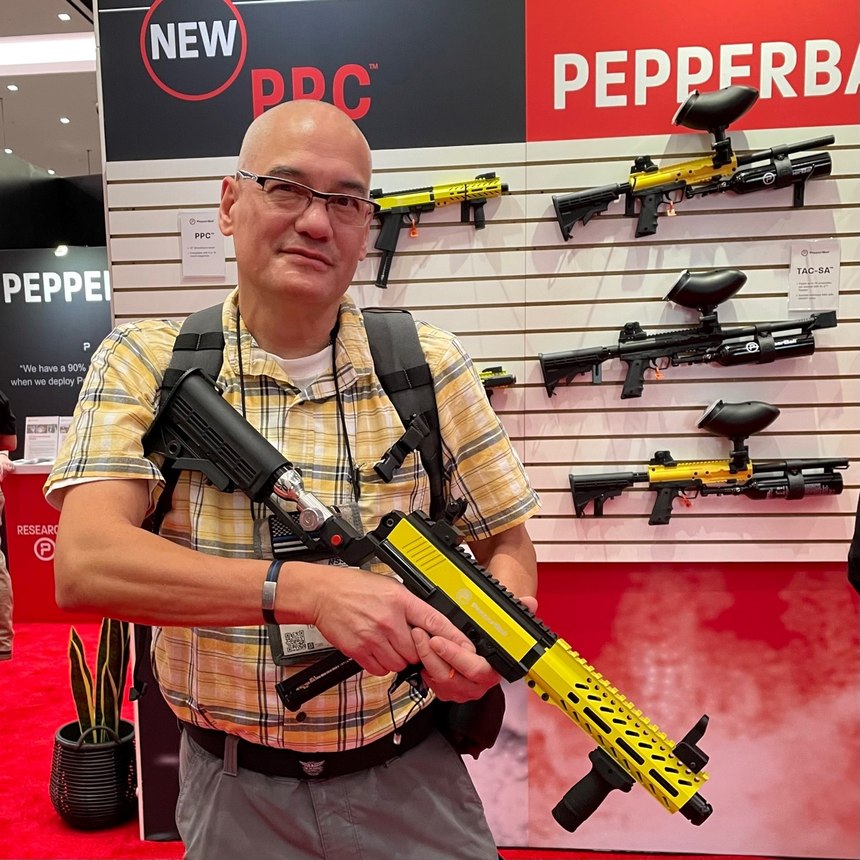 I was telling the PepperBall team that somewhere in the archives, I have a video of myself taking a live round, which is their standard .5% PAVA .68 caliber spherical round. I'm not known as the smartest person in the world, and I like to experience the product in order to talk about it. I was incapacitated by the PAVA. The PepperBall Live-Maxx has similar ingredients, but it has been engineered mechanically to create a more effective spread and put more of the PAVA airborne. The term is "bioavailable." The effect is a greater physical response of the subject.
Live-Maxx doesn't change anything about the safety of the user or recipient, just the effectiveness of the delivery system. The way it was described to me by someone who has been on the business end, it worked quicker than the previous product.
I find PepperBall products to be excellent tools for officers to resolve tactical problems with reduced injury. I anticipate the PPC Launcher and Live-Maxx will increase overall safety to the public.
SwampFox Sentinel
The Swampfox Sentinel is a duty-grade micro reflex sight designed for concealed carry guns, like my Hellcat. Despite the 7075 aluminum body and multi-coated glass, the Sentinel has an MSRP of $249 (contact them directly for law enforcement pricing).
Fortunately, there is less footprint mounting confusion for micro-optics. I understand this fits a number of subcompact guns. The Sentinel comes in "always-on" and "shake-n-wake" configurations, in auto or manual brightness. The Swampfox can take a beating. If you tend to beat them up more than usual, there are optional armor accessories that give additional durability.
I found it pretty easy to acquire the dot on the Sentinel. As I was playing with it, I got talking to Mike Branson, the person responsible for the Swampfox design. Mike is a former attorney. He told me that as optical sights have become more popular for law enforcement, their use has become easier to legally justify.
"What?" I asked.
"Officers should use RDS (red dot sights and variants) because they don't have big metal blocks covering the target," referring to using sights as opposed to an RDS. "Listen," Mike continued, "The guy who survived the saber-toothed tiger didn't survive by looking at his hands."
He went on to explain that, with an optic sight, with both eyes open, the officer can make better threat decisions. They can distinguish between a gun and a cell phone (etc.) more readily because their focus is on the target, not the front sight. Therefore, threat decision-making is improved.
I honestly hadn't thought of that. Mike Branson turned out to be a brilliant conversationalist, who knows the product, and its deeper implications.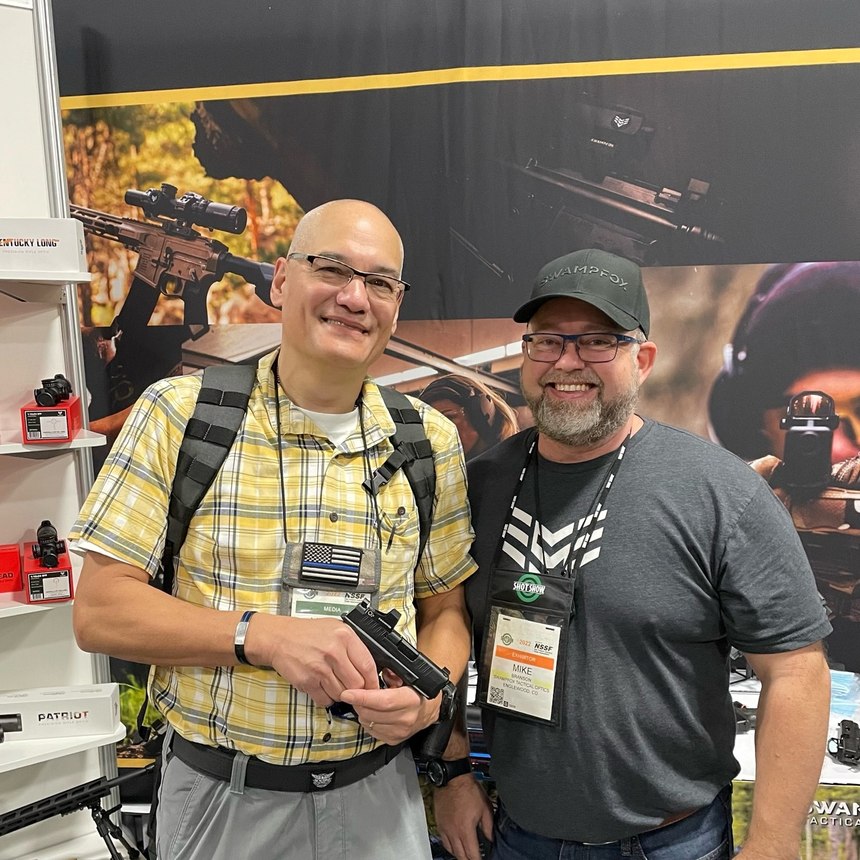 Once again, Lindsey has learned a lot at SHOT. When you hear from me again, we will look at knives on display at SHOT Show. In the meantime, stay safe.
RELATED: DOWNLOAD THE FOLLOWING POLICE1 RESOURCES

Request product info from top Police Less Lethal companies
Thank You!