PRESS RELEASE
BolaWRAP® Remote Restraint Devices approved for sale in Italy
---
TEMPE, Ariz. —  WRAP Technologies, Inc. (the "Company" or "WRAP") (Nasdaq: WRAP), a global leader in innovative public safety technologies and services, announced that Italy has joined the growing list of countries that are now using and testing the BolaWRAP technology.
Italy-based WRAP distributor Defconservices, led by owner Danila Maffei, has significantly contributed to the business development and sales of products and equipment into the Italian Police and Defence sector over the past 15 years and is widely respected by Homeland Security agencies across the country.
Despite COVID-19 restrictions and hampered ability to conduct face-to-face meetings, the team at Defconservices has remained resilient and relentless in its efforts and has demonstrated the BolaWRAP system to several Italian Police and Defence agencies (see video link here) that have shown interest and excitement towards adopting this safe apprehension tool for police officers.
During this time, the Defconservices team has invested the time, effort, and resources towards making this project a success in Italy. We are pleased to confirm that training and use will be supported by Paolo Grandis - the first International Master Instructor certified by WRAP Training Academy. Paolo, based in Italy, attended BolaWrap Master Instructor training in Arizona in March.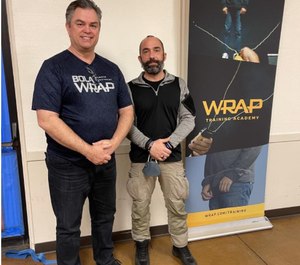 WRAP CEO Tom Smith with International BolaWRAP Master Instructor Paolo Grandis (March 10, 2021)
"WRAP's support and collaboration with our international distributors continues to deliver results," said Jags Gill, VP of International Sales of WRAP. "When selecting licensed distribution partners around the world, it is vital for WRAP to engage with industry professionals who have a deep understanding of specific operational risks, threats, and duties facing various global law enforcement and military agencies. Even with the challenges from COVID, working with our in-country distributors has allowed WRAP to continue to expand our international presence despite limited travel. We look forward to continued success with Defconservices in Italy."
About WRAP
WRAP Technologies (Nasdaq: WRAP) is a global leader in innovating public safety technologies and services that deliver advanced solutions focused on avoiding escalation. The BolaWRAP® Remote Restraint device, WRAP's first product, is a patented, hand-held device that discharges a Kevlar® tether to temporarily restrain from a safe distance. Through many field uses and growing adoption by agencies across the globe, BolaWRAP is proving to be an effective tool to safely detain persons without injury. WRAP Reality, the Company's virtual reality training system, is an immersive training simulator and comprehensive public safety training platform designed to empower first responders with the necessary knowledge to perform in the field. WRAP's headquarters are located in Tempe, Arizona. For more information, please visit wrap.com.

Request more info from WRAP Technologies
Thank You!