PRESS RELEASE
WRAP reports first quarter 2021 results
---
Growing U.S. and International Demand Drives Solid 123% Year-Over-Year Revenue Growth to $1.5 Million
TEMPE, Ariz., - WRAP Technologies, Inc., a global leader in innovative public safety technologies and services, today announced results for its first quarter ended March 31, 2021 ("1Q21").
First Quarter 2021 Highlights
Net revenues grew 123% to $1.5 million
Gross margin of 39%, similar to 1Q20, up from 33% in 4Q20
Trained agencies increased 222% over prior-year quarter, to 628
Certified officer instructors increased 172% over prior-year quarter, to 1,961
President Tom Smith appointed CEO
WRAP Reality immersive training platform gaining momentum – signed new five-year training subscription agreement
Management Commentary – Tom Smith, CEO and President

"We had another solid quarter of progress toward integrating our training tools and remote restraint devices into a cohesive law enforcement technology platform. Our goal is to offer a seamless platform that provides efficient training for any situation an officer may experience and the effective use of devices to help do the job without causing pain or escalating a situation unnecessarily. Both our virtual reality training and BolaWrap fill a growing demand for safer solutions, as police agencies from around the world deal with reform under an intense spotlight."
"We believe our first-mover advantage in providing an immersive training solution to a market that is actively seeking fresh ideas towards police education and training will continue to serve us well as we expand our brand awareness worldwide. We have now delivered product to 41 countries. We expect 2021 to be a year of continued growth as we pursue our goal of becoming the global leader in de-escalation solutions and best practices."


FIRST QUARTER 2021 FINANCIAL AND OPERATIONS HIGHLIGHTS

Net Revenues
Generated revenue of $1.5 million for the 1Q21, representing 123% growth as compared to 1Q20.
Sequential increase of 9% from $1.4 million in the 4Q20.
The pandemic is expected to continue to impact sales efforts both in the U.S. and internationally; however, our sales pipeline remains robust.
Gross Profit
Generated $0.6 million of gross profit for the 1Q21.
Gross margin was 39% for the 1Q21, a sequential improvement compared to 33% for 4Q20.
We continue to expect our gross margins to be fluid as we ramp our revenue base during this early stage of growth.
Selling, General and Administrative (SG&A) Expense
SG&A expense increased $2.8 million in 1Q21 to $5.0 million compared to 1Q20.
Increase was driven primarily by a $0.8 million increase in compensation costs as we ramp our sales force and training teams due to agency demand, and $1.0 million of public reporting expense.
Travel expenses remain under historical growth rates.
Research and Development (R&D) Expense
R&D expense increased $0.5 million in 1Q21 to $1.0 million compared to 1Q20.
We expect our R&D expense to increase in 2021 as we add staff and expand important research initiatives in response to identified market opportunities, including further development of our training platform.
Inventory
Inventory increased to $3.6 million at end of 1Q21, compared to $2.7 million at 4Q20 in response to growing market opportunities.
Capital Structure and Liquidity
Cash, cash equivalents and short-term investments were $37.0 million at end of 1Q21, representing 81% of total assets, compared to $41.6 million at 4Q20.
Outlook
"We continue to expect near-term headwinds to our growth as international travel remains limited.," said Mr. Smith. "We expect thisto continue through at least the first half of 2021, then soften as we proceed through the second half of 2021. Accordingly, near-term growth rates may differ from historical norms."
Webcast and Earnings Conference Call
The Company will host a live Zoom video webcast for investors and other interested parties beginning at 4:30 p.m. Eastern Time on Thursday, April 29, 2021. The call will be hosted by Tom Smith, CEO and President, Jim Barnes, CFO Secretary and Treasurer, and Paul Manley, VP of Investor Relations.
WEBCAST LINK: Webcast Registration Link
Participants may access the live webcast by visiting the Company's Investor Relations page at www.wrap.com. A webcast replay of the call will be available on the Company's Investor Relations page within 24 hours of the live call ending.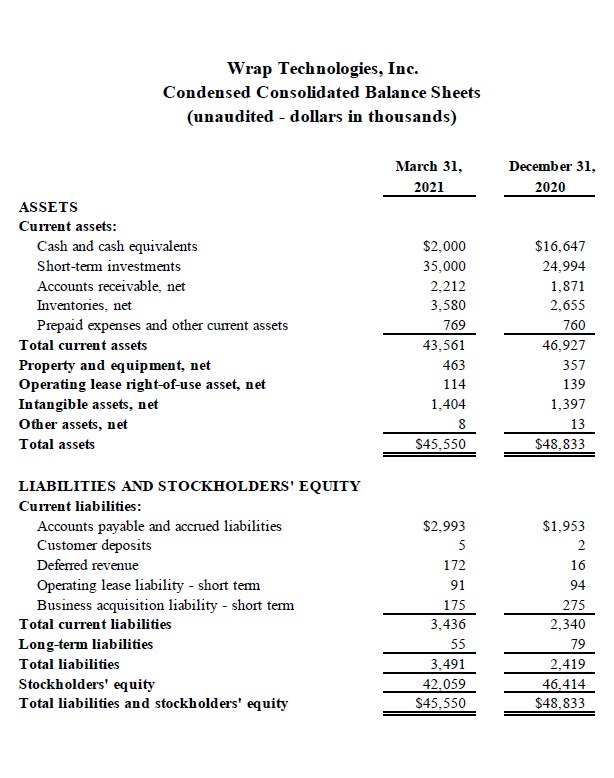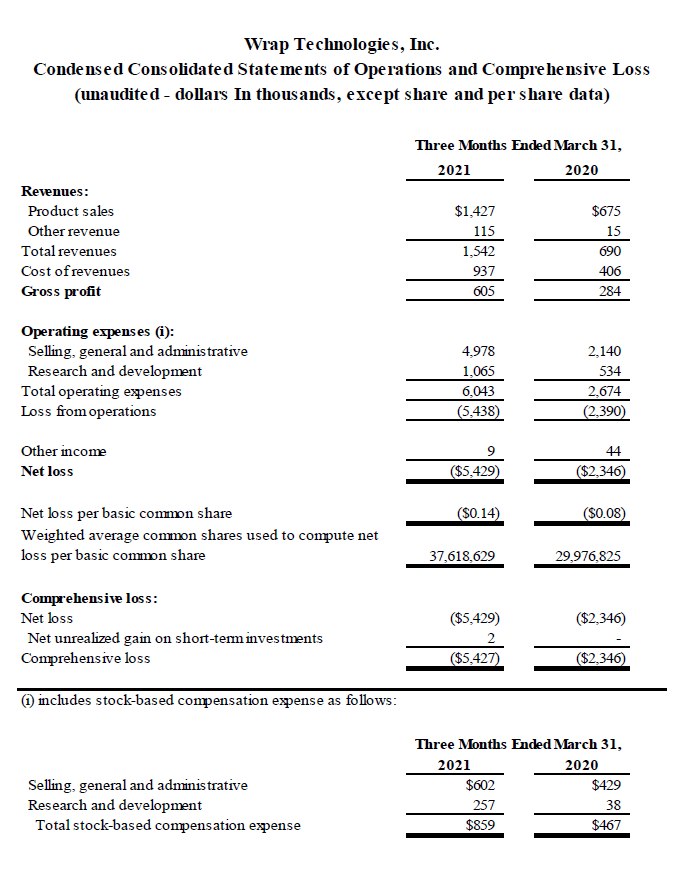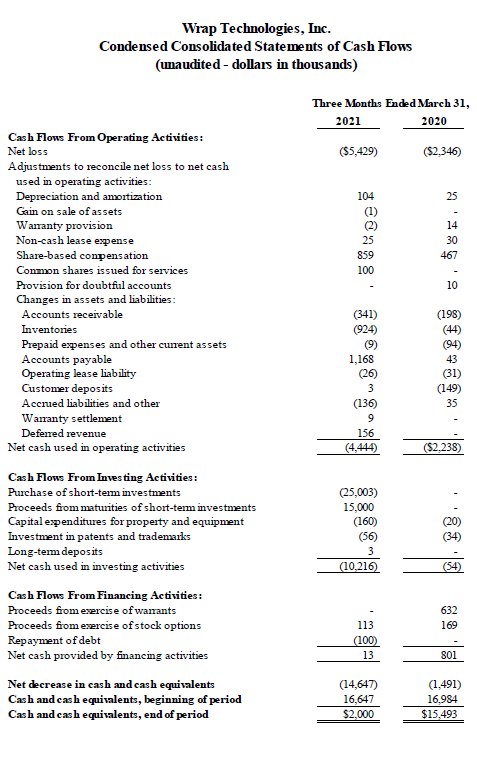 About WRAP
WRAP Technologies (Nasdaq: WRAP) is a global leader in innovating public safety technologies and services that deliver advanced solutions focused on avoiding escalation. The BolaWrap® Remote Restraint device, WRAP's first product, is a patented, hand-held device that discharges a Kevlar® tether to temporarily restrain from a safe distance. Through many field uses and growing adoption by agencies across the globe, BolaWrap is proving to be an effective tool to safely detain persons without injury. WRAP Reality, the Company's virtual reality training system, is an immersive training simulator and comprehensive public safety training platform designed to empower first responders with the necessary knowledge to perform in the field. WRAP's headquarters are located in Tempe, Arizona. For more information, please visit wrap.com.
Follow WRAP here:
WRAP on Facebook: https://www.facebook.com/wraptechnologies/
WRAP on Twitter: https://twitter.com/wraptechinc
WRAP on LinkedIn: https://www.linkedin.com/company/wraptechnologies/

Request more info from WRAP Technologies
Thank You!