PRESS RELEASE
Wrap Technologies announces new solution to help safeguard cities
---
New package unveiled to ease civil unrest as  departments around the world demand innovative technology
TEMPE, Arizona — Wrap Technologies, Inc. a global leader in innovative public safety technologies and services, today announced the launch of its Protest Riot Pack (PRP) by popular demand from law enforcement agencies. Designed to empower law enforcement agencies and keep cities safe, this solution is designed to revolutionize public safety strategies.  Additionally, Wrap is developing a new training scenario for its Wrap Reality virtual training platform that will provide the necessary situational training to support law enforcement and the community.
Police departments have expressed a growing need to enhance traditional crowd management and de-escalation methods. Wrap's introduction of the PRP solution underscores its recognition of the shifting challenges that law enforcement professionals face. This launch further solidifies Wrap's dedication to promoting both compassionate and pragmatic solutions.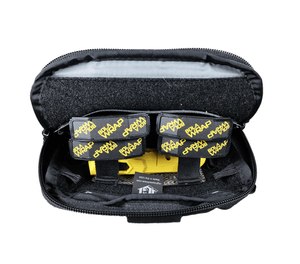 "We believe in a world where civil discourse and peaceful protests can be facilitated safely," said Kevin Mullins, CEO of Wrap Technologies. "BolaWrap® has been called upon to help provide a safe, no-harm alternative to traditional crowd control tactics. By deploying BolaWrap®, officers can remotely restrain individuals in a safe manner during intense situations. Our customers have asked for an easy-to-grab solution utilizing BolaWrap® as the go-to tool for assisting in civil disturbance calls, such as protests and riots. Wrap is committed to public safety and providing solutions that serve the community and law enforcement with no-harm approaches to even the most difficult situations. Our new PRP solution empowers law enforcement and enhances public safety for all citizens."  
 Key features of the PRP solution include:
BolaWrap® 150 Remote Restraint Device: BolaWrap deploys a 7.5 foot Kevlar tether to safely restrain a person at a safe distance without causing harm, preventing the need for physical confrontation and mitigating the risk of injury to all involved.
Four BolaWrap® Cassettes
A Go Pouch:  PRP pouch enables the carry of the BolaWrap® 150 device and four cassettes in a convenient easy-to-grab solution that has multiple carry options including sturdy attachment to armored vests.
Set to launch in Q1 of 2024, Wrap will add a new protest scenario to its Wrap RealityTM platform, enabling existing and new Wrap Reality customers to train officers in how to best deal with tense crowd control encounters. Wrap Reality immerses law enforcement in life-like experiences to help familiarize officers with various scenarios, decisions and outcomes.
The initiative marks a significant milestone in Wrap's goal of creating safer communities through innovative and non-lethal solutions.
For more information, please visit wrap.com/riotpack.
About Wrap
Wrap Technologies, Inc. (Nasdaq: WRAP) is a leading global provider of advanced public safety solutions, integrating ultramodern technology, cutting-edge tools, and comprehensive services to address the complex, modern day challenges facing public safety organizations around the world. Guided by a no-harm principle, Wrap is dedicated to developing groundbreaking solutions that empower public safety agencies to safeguard the communities they serve in a manner that fosters stronger relationships. Driving safer outcomes, empowering public safety and communities to move forward together. 

Request more info from WRAP Technologies
Thank You!