PRESS RELEASE
Easy Eye Cleanse Product Turns Most Water Bottles into Eye Wash Device – Exclusive from SABRE
---
Revolutionary Option for Law Enforcement, First Responders & More
CHICAGO, IL - New from SABRE is the first and only device capable of turning any water bottle into an eye wash device. The company – known as the #1 pepper spray brand trusted by law enforcement worldwide – developed the Eye Wash Adapter to help officers flush contaminants from their eyes. The patented design makes the water bottle model exclusive to SABRE and offers on-the-go convenience for law enforcement, first responders and more.
SABRE's Eye Wash Adapter provides a simple solution to turn most water bottles into an eye wash device in just three steps: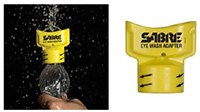 1. Insert Eye Wash Adapter into water bottle
2. Twist device onto bottle to create a tight seal
3. Gently squeeze the bottle to create a water fountain helping flush contaminants from the eye
One key benefit of the device, which retails for $9.99, is that it expedites the decontamination process during law enforcement aerosol projector training, but the product has many other applications. SABRE's Eye Wash Adapter's use is not restricted to pepper spray – the device can flush any contaminants from the eye. Convenient and versatile, the Eye Wash Adapter is recommended for use in police cruisers, ambulances, fire trucks, homes, offices, workshops and more. The product is available for purchase at www.sabrered.com/decontamination.
ABOUT SABRE – Security Equipment Corporation
SABRE, family owned and operated with four decades of experience, is the leading brand in personal and home safety offering superior protection tools for professionals and consumers. The exclusive choice of the New York Police Department, Los Angeles County Sherriff's Department and the U.S. Department of Defense, SABRE specializes in solving the unique challenges facing law enforcement. The brand also has a line of consumer pepper sprays, personal alarms and home security systems. Learn more at www.sabrered.com.

Request more info from SABRE-Security Equipment Corp.
Thank You!