PRESS RELEASE
SABRE Red Safe Escape 3-in-1 automotive tool with snap clip
---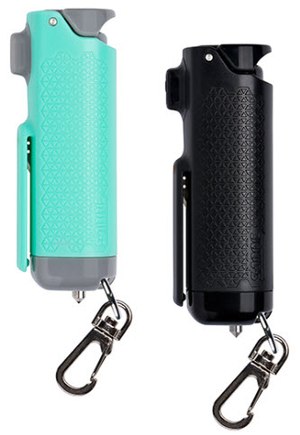 The Only 3-in-1 Safety Tool of its Kind. The Safe Escape is a Pepper Gel with Seat Belt Cutter & Window Breaker.
ESCAPE TO SAFETY: Cuts through malfunctioning seat belts in seconds without worry of injury. Durable, stainless steel tip punctures window glass for a speedy escape  
MAXIMUM STOPPING POWER: Max strength formula backed by our in-house HPLC laboratory to guarantee max stopping power, eliminating the 30% failure rate experienced with other pepper spray brands (Univ of Utah study); UV marking dye aids in suspect id  
GEL IS SAFER: Pepper gel does not atomize like traditional pepper spray, meaning it virtually eliminates wind blowback and only affects the intended target, plus 20% greater range (12 feet/4M) for protection at a safer distance  
PROTECTION AGAINST MULTIPLE THREATS: Each model comes with 25 bursts (up to 5x more than other brands), providing protection against multiple targets  
#1 PEPPER SPRAY BRAND TRUSTED BY POLICE WORLDWIDE: Including New York, Chicago PD, Los Angeles County Sheriff's & U.S. Marshals; made in the U.S.A. and ISO 9001:2008 certified with a 4-year shelf life from the date of manufacture  
EASY ATTACHMENT: Snap clip allows for effortless attachment to keys or bag and quick detachment when you need it most 
About Security Equipment Corporation
SABRE - Security Equipment Corporation is the world's largest pepper spray manufacturer, providing police-strength protection to consumers and law enforcement alike, all across the globe. 

Request more info from SABRE-Security Equipment Corp.
Thank You!