PRESS RELEASE
Security Equipment Corp. Introduces The MK-60
---
New OC Crowd Management Technology with Innovative Built-In Pressurization System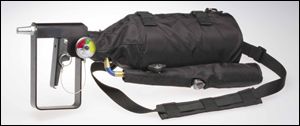 On the line, outnumbered and faced with an unruly and aggressive crowd? Controlling a crowd on the go has never been easier! The NEW SABRE MK-60 crowd management technology provides the stopping power you desire.
Traditional crowd management systems are cumbersome, difficult to refill and require an external nitrogen tank to pressurize. Should the operator exceed recommended pressure, the tank may rupture; conversely, if under pressurized field malfunctions may arise, most notably lack of range. The NEW SABRE MK-60 crowd management technology eliminates the complexity associated with conventional systems. The MK-60 contains a connecting port where a premeasured nitrogen tank is screwed in perfectly pressurizing the projector every time! As a result, The MK-60 technology allows the product to be quickly filled on-line or on the way to a disturbance without the need of an external nitrogen tank.
The SABRE Red MK-60 is the Safest, Fastest and most Efficient Refillable Crowd Management Projector! Holding 56 ounces of product, the MK-60 contains approximately 30 one second burst or 2.5 times as many shots as traditional crowd management systems.  Simply screw in your premeasured nitrogen tank and you'll be taming the largest crowds in less than 90 seconds! 
Since 1975 Security Equipment Corporation has produced the most effective line of defense spray products: Branded as SABRE, SABRE Red and FRONTIERSMAN. At SEC, customers are offered the finest defense spray possible with one thought in mind: When a life is at stake, our products must be effective.  For more information about the MK-60, SABRE, SABRE Red, or any other Security Equipment Corporation products, contact Security Equipment Corporation at 747 Sun Park Drive, Fenton, MO 63026 · (800) 325-9568 or visit www.sabrered.com.  Making Grown Men Cry Since 1975!

Request more info from SABRE-Security Equipment Corp.
Thank You!