Cardiac arrest is a law enforcement problem
With the right tools and mindset, police can help save victims before EMS arrives
---
Sponsored by Stryker
By John Erich, Police1 BrandFocus Staff
The high school softball game had barely begun when home plate umpire Jeff Brunner collapsed. First base coach Jason Roelofs came running, as did fellow assistant coach Matt Lyon and player parent Jason Hamilton. They found Brunner unconscious, breathing shallowly and foaming at the mouth.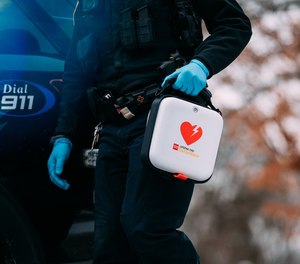 The three bystanders, all off-duty Michigan law enforcement and corrections officers, jumped into action. While Lyon and Hamilton cleared Brunner's airway and began CPR, Roelofs ran to his patrol car for an AED. By the time he returned, Brunner had stopped breathing and lost his pulse. Roelofs applied the AED and delivered a shock. They resumed CPR, and moments later Brunner regained consciousness. He was alert when paramedics arrived and transported him to a hospital in Traverse City.
For someone who suffered a cardiac arrest, Brunner was lucky in several regards. One, multiple bystanders knew CPR and acted quickly. Two, the Grand Traverse County Sheriff's Office, for which Roelofs and Hamilton worked, equipped its deputies with AEDs. And three, a late work meeting that delayed Roelofs resulted in him taking that patrol cruiser to the game, rather than his personal vehicle. Other AEDs were available, but his was closest.
"We are just really grateful for those deputies in our communities that have that training and knowledge to make those lifesaving decisions at a moment's notice," school superintendent Amiee Erfourth told the Traverse City Record-Eagle. "We're very fortunate for that."
POLICE DEFIBRILLATION SAVES LIVES, IMPROVES OUTCOMES
There's no better argument for police defibrillation than Jeff Brunner and those like him. Police have a unique opportunity to help such patients that even EMS often doesn't.
In out-of-hospital cardiac arrest (OHCA), time is the most important metric. For every minute without intervention, survival from even the most survivable kind of arrest, ventricular fibrillation, falls by 7%–10%. That means cardiac arrest victims who wait the average seven minutes (twice as long in rural settings) for help from an EMS crew face tough odds even if everything else goes perfectly. Even if they survive, they often have severe brain damage from the prolonged interruption of blood flow.
But police often arrive at emergency scenes before firefighters or EMS. That ideally positions officers who can perform CPR and use AEDs to save lives and improve outcomes without waiting for their fellow responders – and they do:
All that and more makes a strong data case for police defibrillation. If a department's mission is to protect and serve, carrying and using AEDs falls within its scope.
WHAT ARE THE KEYS TO SUCCESS?
But where should a department begin? Seattle's famed Resuscitation Academy developed a toolkit, intended for EMS but useful for police also, that covers the key elements of a police defibrillation program.
For such programs, success starts at the top: Leadership must understand that police are an essential first line of defense against OHCA and endorse and prioritize AED programs.
Officers in the field should know that defibrillation is easy; its impact on their workload is minimal (most will never respond to a cardiac arrest); liability remains with program medical directors; and using an AED is a logical extension of the basic care they already provide with interventions like CPR and bleeding control.
As far back as 2002, participants in the National Center for Early Defibrillation's Police AED Issues Forum defined 10 attributes that will help make a program successful. Those remain relevant today:
The ability to respond quickly and reliably in less than eight minutes
A supportive medical response culture that includes leadership and other stakeholders
Strong champions who serve as program advocates
Integration and collaboration with local EMS
An effective, coordinated dispatch system with emergency medical dispatch-trained call-takers
A proactive, hands-on medical director who oversees training and quality improvement
A designated program coordinator to guide day-to-day operations
Effective, competency-based initial and refresher training
Familiarity with applicable laws and regulations
An effective CQI program that includes written policies and data collection and analysis
Basically, it takes buy-in. "If police frequently arrive first, but the department is unwilling or unable to cultivate the attributes of successful LEA-D [law enforcement agency defibrillation] programs, efforts to improve survival may not be realized," the authors of that article wrote. "In most communities, however, LEA-D programs have tremendous lifesaving potential and are well worth the investment of time and resources."
EXPERIENCE BREEDS COMFORT
Today's AEDs are extremely simple to care for and operate even for nonmedical personnel, and with the right training and integration, such programs can become a natural and comfortable part of officers' duties.
In 1992, researchers began a multiyear examination of the effectiveness of defibrillation programs in seven suburban police departments. In a follow-up 10 years later, they found defibrillation "integrated into the law-enforcement culture," and that both chiefs and officers continued to support and see the value in police-based defibrillation programs.
Police providers need AEDs that are fast, simple and intuitive. Qualities to look for include ease of use, with automated features and clear voice prompts that can help lead users through the defibrillation process; self-testing and automatic alerting when problems are detected; the connectivity to share essential data; and the size and suitability for use in the field.
Stryker offers multiple easy-to-use models suitable for police AED programs. These include the LIFEPAK CR2, the only AED on the market that allows chest compressions during ECG rhythm analysis (helping keep hands on the chest, a critical component of high-quality CPR), and HeartSine samaritan PAD models that are the smallest and lightest available.
EQUIP POLICE FOR THE MISSION
There are more than 356,000 out-of-hospital cardiac arrests in the U.S. every year. Survival rates remain poor, but we know what can improve them: fast CPR and defibrillation when it's needed.
By providing officers affordable AEDs that are easy to use and maintain, support data requirements and withstand the rigors of the field, police departments can achieve a new level of keeping their citizens safe.
Note: This article refers to AEDs for which the intended use and indications for use allow law enforcement operation with proper training as specified. Refer to operating instructions for complete directions for use, including indications, contraindications, warnings, cautions and potential adverse events.
Visit Stryker for more information.
VIEW NEXT: Stryker survivor story – Jordan Schoen 
Request information from Stryker
Thank You!