Faster, more effective police unit collaboration with DragonForce
DragonForce's integrated real-time collaboration suite fits the needs of police units large and small
---
This content sponsored by Drakontas
By Police1 Staff
Officers can collaborate in real-time using their mobile devices with the help of Drakontas' DragonForce, a cloud-based software suite with a wide range of tools for planning and executing operations in the field. The software's features are easy to use and intuitive, providing quick access to mission-critical information when it counts.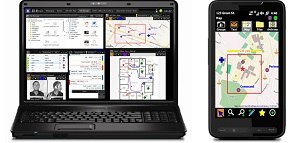 Drakontas, founded in 2004 through a partnership between entrepreneurs and researchers at Drexel University, is a leading provider of software solutions and training programs for federal, state, and local governments in the fields of defense, law enforcement, and criminal justice. DragonForce was designed using insights garnered from actual field trials and evaluations done with SWAT teams and public safety agencies throughout the USA under the umbrella of the National Institute of Justice, DARPA, and US Army CERDEC.
Data sharing
The power of DragonForce centers on the collaborative whiteboard feature. Here, team members use mobile devices to communicate instantly with one another, make notes and annotations on maps and images to create a common operating picture, and ensure each team member has all the information they need to quickly and safely execute their mission.
Whether this takes the form of making notes on a floor plan before a SWAT team makes an entry, or sharing intel gained by officers on the other side of the building, or across town, DragonForce makes communicating that information easy, clear, and instantaneous.
Beyond the collaborative whiteboard, DragonForce users can share files and text message. Any file can be stored in the cloud, such as photographs, mug shots, or diagrams, while new files (such as floor plans, PDFs, schematics or other files) can be up uploaded on the fly and shared instantly. Those familiar with text messaging on their smart phones will have no trouble using the built-in text service.
Location tracking
Users can also share their locations with their team. DragonForce uses OpenStreetMap for street-level maps, but can also integrate with a wide variety of map providers, such as Bing, Esri, Pictometry, and others. Commanders can follow the movement of officers, while team members can remain apprised of one another's position. Features of interest can be easily marked with various icons, and perimeters can be mapped out and instantly transmitted to the entire team. If the GPS on a team member's device isn't working, they can use the "dead reckoning" feature to manually indicate their location and alert teammates to their location.
The map also contains a distance measurement feature, which has a wide variety of applications including snipers sighting rifles, commanders estimating movement time, or whatever else the situation demands.
DragonForce operates over existing commercial wireless networks and runs on mobile devices like the smartphones that officers already carry with them or on laptops or PCs through any web browser. This also means the cost of adopting the systems is impressively low. The software can be downloaded from the appropriate App Store, and can be up and running in minutes.
Reporting
Reporting is another well-developed feature of DragonForce. Fully customizable forms mean that you can get the data you need, in the format you need, and integrate that information into your existing systems.
All information in DragonForce is logged by user, time, and location, facilitating the creation of comprehensive after-action reports. The information gathered can then be reviewed and used to improve training and planning of future operations. Data transmissions are secured by 256-Bit AES encryption, the same that is mandated for use by the Department of Defense.
To give perspective on how strong an encryption this is, industry experts have estimated it would take the world's super computers, working in tandem and non-stop, many times longer than the age of the universe to "crack" such a cypher. This above-and-beyond approach to security illustrates Drakontas' commitment to data protection.
Deploying DragonForce
The applications of such a technology in the field of law enforcement are numerous: from everyday police operations benefiting from increased organization and streamlined communication, to the very real need for cohesive cooperation in high-stress situations, such as disaster responses or mass-casualty situations that may require SWAT or hazmat teams or the bomb squad.
DragonForce can be deployed through the cloud, freeing your department from the costs of server maintenance, or be hosted in-house at your location and managed by your own IT department.
The other major benefit to this approach to deployment is scalability. From a small unit to a large operation requiring the cooperation of multiple departments, the tools, time and expertise needed to apply DragonForce remain minimal.
DragonForce provides a high-tech solution to issues faced by law-enforcement officers every day. From the mundane, everyday patrol to an unexpected disaster, DragonForce provides a collaborative software solution to meet the needs of officers in the field and their commanders.

Request information from Drakontas
Thank You!