How DragonForce solved the real-time tactical collaboration problem
DragonForce allows officers to create a common operating picture using commercial mobile devices
---
This content sponsored by Drakontas
By Police1 Staff
Speed is the essence of war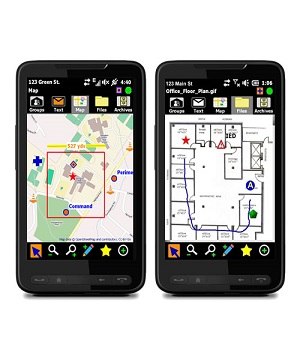 –Sun Tzu
Law enforcement professionals understand that when bad stuff happens, the difference between a successful operation and a failed one is often rooted in the communication between officers. Officers' decisions are based on the information they have in the moment. In tense situations when every second counts, you want everyone on your team to be on the same page: sharing intel, team member locations, and accurate communications.
Drakontas' DragonForce team collaboration tool is the answer for just such a situation, giving your team the ability communicate, coordinate, and collaborate using any commercial mobile device. It promises to aid in police operations from the "ordinary to the extraordinary," said James Sim, Co-founder and President of Drakontas.
One Team, One Picture
Imagine going into a situation, being able to track the deployment of officers through satellite maps, following their movements using GPS as they get into position. One officer spots a suspect and marks the location on the map, which is then instantly transmitted to all other units in the area. Another officer arriving on the scene has interviewed a neighbor and received a rough layout of the suspect's house, which is also instantly transmitted to the team. Utilizing this information, the commander creates a plan of entry, marking it on the floor plan provided by the second unit, and is able to immediately share it with all units, already in position, so they may effectively enter the house using a common operation picture.
Using any mobile device, DragonForce quickly allows commanders to set up ad-hoc teams, share vital information with them, and access a common pool of information. From here, commanders can share information via maps, interactive whiteboards, or through the sharing of images or other files. What this allows is an instantaneous level of communication using an intuitive, easily-adapted interface. Meanwhile, in the field, officers equipped with either mobile devices or using the touchscreen in their cruiser are able to access the same information that control has, send messages, and collaborate using the "whiteboard" feature.
DragonForce's Killer Feature: The Whiteboard
Perhaps the most attractive feature is the collaborative whiteboard, which allows all team members, regardless of location, to share a common strategic planning space. With the collaborative whiteboard and file-sharing technology, your team can share suspect photos, reconnaissance, floor plans, and live text messaging in order to form a common understanding through which to manage operations.
Scalability is another merit of the DragonForce suite. The flexibility inherent in connecting mobile devices via already established commercial networks enables easy adoption, especially for smaller departments. You already have all the equipment you need to run DragonForce, making the cost of implementation minimal. And because DragonForce can be downloaded via the appropriate app store (both Android and iOS are supported), it takes just minutes to get set up. This ease of implementation keeps it "within reach of even the smallest department. You don't have to pay for a customized or proprietary solution," said Sim.
The size of your group won't present a problem either, as a large regional collaboration involving dozens of departments can be linked together with DragonForce as easily as a single small squad. From everyday police work, to hazmat and SWAT applications to disaster response, DragonForce allows a level of communication that is unparalleled in the current marketplace.
Super Secure Communications
Of course, security is always a concern when it comes to any sort of new law enforcement technology. You want to be sure that your communication remains secure during and after an operation. DragonForce employs 256-bit AES encryption, and all communication is logged for security reasons, as well as to facilitate after-action reporting.
Those reports can be fully integrated into your existing systems through the use of customizable reporting forms, keeping the cost of adoption low, and more importantly, allowing for a cycle of growth, as reporting is used in training, which aids in planning for future operations, which themselves are reported on, and those reports lead to even more effective training.
In a dangerous situation, the ability to collect, process, disseminate, and act on intelligence quickly is crucial. With the ever-present network of mobile devices, computers, and phones, instant communication is now more a reality than ever. Being able to seamlessly communicate location, visual data, on-the-ground intel among a tactical operations group could save lives. Drakontas' DragonForce may just be the answer.  

Request information from Drakontas
Thank You!