Police credit new tech for helping nab suspected Phoenix serial killer
Phoenix police were able to arrest a man suspected of killing nine in a three-week span thanks in part to new technology
---
By Police1 Staff
PHOENIX — Police in Phoenix arrested a man suspected of nine killings in a three-week span, thanks in part to new technology.
CBS News reports that police arrested Cleophus Cooksey in mid-December for the murder of his mother and stepfather. While Cooksey was in jail, detectives were investigating seven other unsolved murders that occurred in the area between Thanksgiving and Christmas.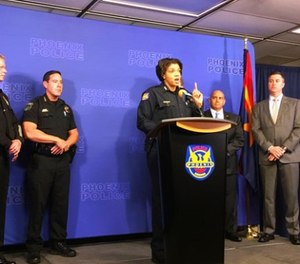 All of the victims died from gunshot wounds, and all were reportedly traced back to Cooksey thanks to new technology.
Since mid-2017, Phoenix police have been using high-powered in-house technology that allows them to compare bullet casings from multiple crime scenes, according to the Arizona Republic. The tech allows police to immediately share and process ballistics evidence from different crimes scenes within hours instead of weeks.
"It means police can make an arrest and stop a killer before he claims another life," Phoenix Mayor Greg Stanton said. "Our streets are safer today."
The tool examines the microscopic grooves left on casings by the gun that fired them and allows police to compare them with casings found at other crimes scenes. Phoenix police Sgt. Jonathan Howard said while the technology was important, eyewitnesses, cell phone-tower data and surveillance footage also pointed police to the lone suspect.
Police believe Cooksey may be eventually be linked to more crimes.
Request product info from top Mobile Forensics companies
Thank You!