Join forces with other first responders for stronger opioid response
Addressing the opioid epidemic requires a coordinated and collaborative effort by police, EMS and other first responders
---
Sponsored by Smiths Detection
By Melissa Mann for Police1 BrandFocus
In 2016 alone, nearly as many people died in the U.S. from illicit opioid overdose as did U.S. citizens during the Vietnam War. According to the CDC, approximately 91 Americans die each day from opioid overdose. With these massive numbers, law enforcement agencies, local government agencies, EMS and other first responders are forced to explore options beyond the typical drug enforcement and prevention protocol.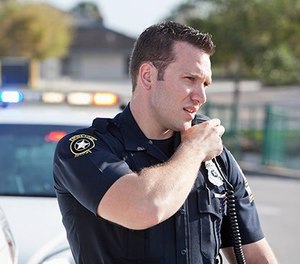 Addressing the opioid epidemic requires a coordinated and collaborative effort by police and other first responders. New approaches must expand beyond simple street enforcement and detaining subjects for possession or transporting them to the hospital after an overdose. This will require detailed information sharing and cooperation between police, public safety agencies, hospital personnel, fire and EMS.
Interdisciplinary Approach
Federal grants that support efforts to fight the opioid epidemic require collaboration among various community stakeholders. An interdisciplinary approach means bringing together police, EMS, medical organizations and community resources with a shared goal of curbing the opioid epidemic.
Communities around the country are making a dent in the opioid crisis through collaborative efforts. For example, in Lowell, Massachusetts, the police chief and fire chief are coordinating their efforts through the Community Opioid Outreach Program.
In conjunction with local EMS and an addiction treatment facility, members of the Lowell COOP team receive an alert every time EMS, fire or police are dispatched to an overdose-related call, and someone from the team follows up with that person the next day to encourage him or her to seek treatment. Closely monitoring the overdoses in the area shows when a new batch of opiates comes into the community to help police and EMS provide a more targeted response.
Similarly, the Nassau County, New York, police commissioner has plans to roll out a computerized mapping system to track opioid overdoses in real time. The system is designed to help police predict and address the crimes that often accompany drug use.
New Job Duties
The job of a police officer is no longer only about simply rendering assistance. Officers are now expected to recognize the signs of opioid overdose and render immediate medical assistance, including the administration of naloxone and CPR until paramedics arrive.
Many agencies have expanded officers' duties to include distributing addiction resource information and advising grieving addicts and their families about drug treatment programs.
Medication-Assisted Treatment
Medication-assisted treatment has been shown to be an effective treatment for opioid addiction, a chronic medical condition often sparked by a legal prescription from a doctor. The MAT approach includes medication along with counseling and behavioral therapies to treat substance abuse.
Officers are often tasked with distributing information on available community programs. Agency developed policies and programs which improve the delivery of addiction services will expand treatment alternatives and while reducing incarceration numbers, will improve the collaboration between state criminal justice agencies and substance abuse agencies.
Field Testing
Fentanyl and other opioids remain an exposure threat for officers. However, portable, handheld identifiers can provide a safer and much more conclusive way of testing unknown substances on scene. These devices don't require officers to touch samples, reducing potential exposure.
Portable devices can definitively detect and identify even tiny amounts of unknown substances on scene and provide evidentiary documentation to be used in court. Testing can also be conducted in a controlled laboratory environment, but it can take several weeks (if not months) to obtain results from a crime lab.
Tools like the ACE-ID or IONSCAN 600 from Smiths Detection can be used to pinpoint exactly what drugs are being used on the street. This important information can then be shared with local EMS services and hospitals, as well as community outreach programs, to keep all stakeholders informed and safer.
Data compiled from law enforcement, opioid prescription records and mortality records confirm the geographical variations in the availability of opioid analgesics and street analogues. These variations highlight the need to address each community with a unique, community-based approach. Consider how your agency can partner with others in your community to address the opioid crisis on a local level.
About the Author
Melissa Mann recently retired from the field of law enforcement. Her experience spanned 18 years which included assignments in Corrections, Community Policing, Dispatch Communications, and Search and Rescue. Melissa holds a BS in Criminal Justice and MA in Psychology with emphasis in studies on the psychological process of law enforcement officers. She holds a deep passion for researching and writing about the lifestyle of police and corrections work and the far reaching psychological effects on the officer and their world.

Request information from Smiths Detection
Thank You!