PRESS RELEASE
DetectaChem awarded Navy next gen handheld explosive detector contract
---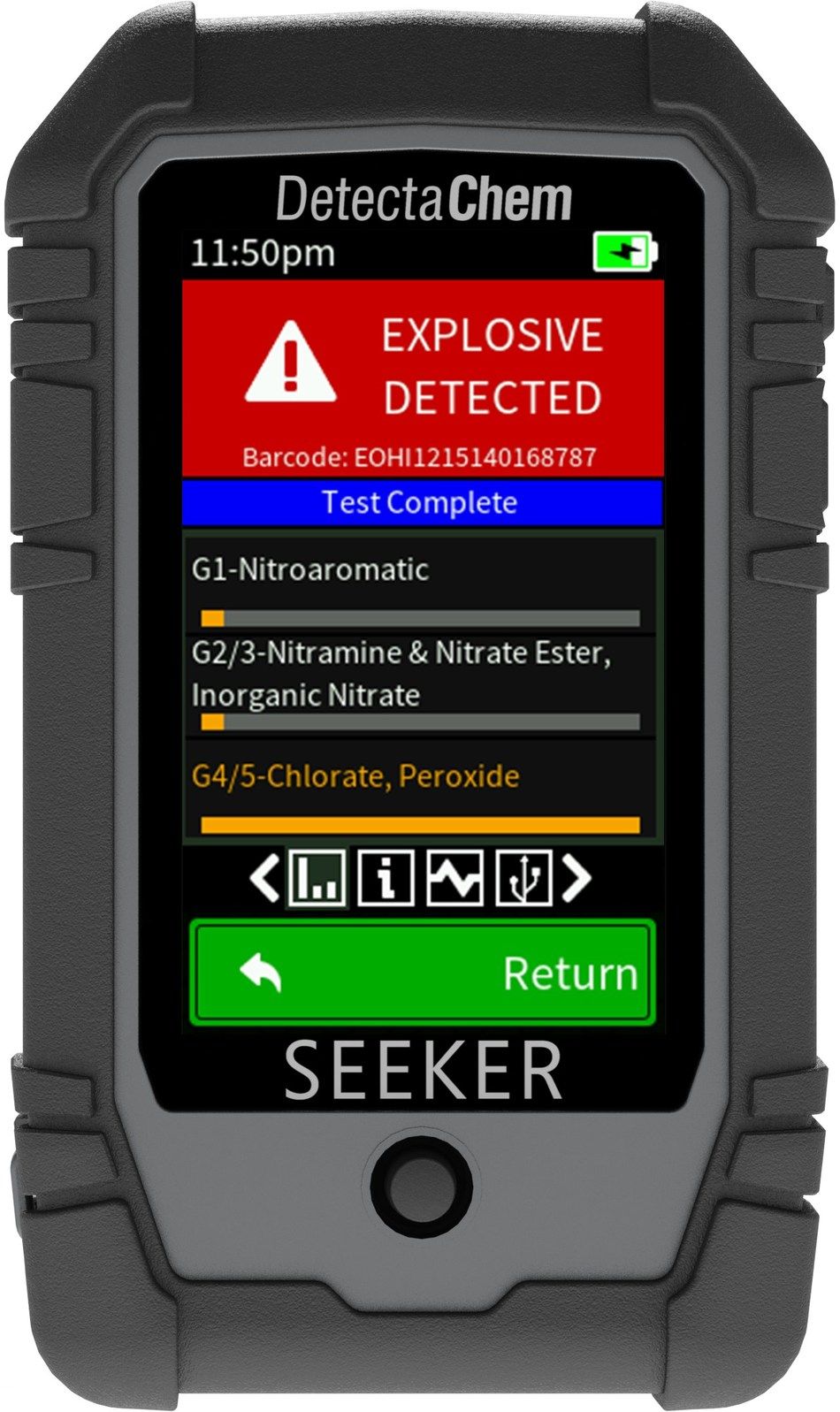 STAFFORD, Texas — DetectaChem is proud to announce their sole source indefinite delivery indefinite quantity (IDIQ) contract award with the U.S. Department of the Navy for their SEEKERe™ EDK (Explosive Detection Kit).
The SEEKERe™ EDK represents the cutting edge in portable, ruggedized, battle-ready detection with simple, video-guided operation, MIL-STD-810G certification and an IP66 rating. Patented automated colorimetrics provide accurate trace detection for nitroaromatics, nitramines, nitrate esters, HMEs, inorganic nitrates, peroxides, chlorates and derivatives in a single test. SEEKERe™ MDK (Multi Detection Kit) and SEEKERe™ DDK (Drug Detection Kit) add trace drug detection capabilities for fentanyl analogues, heroin, cocaine, methamphetamine, THC, synthetics and more.
The $10M sole source IDIQ contract will supply and maintain an estimated 498 SEEKERe™ EDK units deployed globally. Following rigorous and extensive validation testing by the Explosive Detection Equipment (EDE) Program at Naval Surface Warfare Center Indian Head Explosive Ordnance Disposal Technology Division (NSWC IHEODTD), the Office of the Chief of Naval Operations (OPNAV) selected the SEEKERe™ EDK as the Navy's sole next generation Hand Held Explosive Detector (HHED). The testing was jointly funded by the Physical Security Equipment Action Group (PSEAG) and the Joint Improvised-Threat Defeat Organization (JIDO) and met the requirements of the Fleet Forces Command (FFC).
DetectaChem takes supreme pride in delivering and supporting the next generation of handheld detection tools for the brave men and women of the U.S. Navy.
View the public notice: U.S. Navy Next Gen Explosive Detector Award
About DetectaChem 
DetectaChem is a Texas, USA-based privately-held company and manufacturer of rapidly deployable, handheld, intelligent, and easy-to-operate detection systems deployed globally. DetectaChem products are simple to use and maintain, yet sophisticated in function and design. DetectaChem is proud to be a strong supporter of the U.S. military, law enforcement and all first responders that protect our country. More information at www.DetectaChem.com.

Request more info from DetectaChem
Thank You!