PRESS RELEASE
New data proves Dahlgren Decon destroys and neutralizes over 99.9% fentanyl HCL
---
WASHINGTON — First Line Technology received new data from MRI Global, one of the nation's leading research institutes, proving that Dahlgren Decontamination solution neutralizes over 99.9% of bulk fentanyl hydrochloride within five minutes.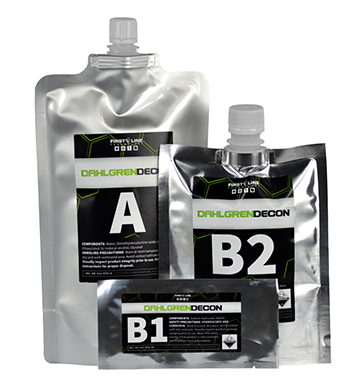 Fentanyl hydrochloride, otherwise known as fentanyl HCL, is one of the most difficult types of fentanyl to decontaminate.
Other current decontaminants can only remove this type of fentanyl, not molecularly destroy. This doesn't help protect First Responders. Dahlgren Decontaminant's 99.9% efficacy is defined as true chemical destruction via molecular disassembly of the target threat. Dahlgren Decon is effective against all threats including fentanyl, fentanyl citrate and fentanyl hydrochloride.
"First Line Technology realizes the importance of considering what specific type of fentanyl is being addressed," said Amit Kapoor, President of First Line Technology. "We aren't just stopping with product research and development with today's threats – we are looking at tomorrow's threats for First Responders and our citizens to produce next generation solutions."
First Line Technology works with scientific experts to conduct reproducible testing that undergoes quality controls and management reviews to produce reports with unbiased data. This produces test reports that can be used in peer reviewed publications that benefit the military and First responder communities.
"We highly encourage our customers to ask questions, get hands-on with our products and seek out unbiased evaluative data before making a purchase," said Kapoor. "Understanding each threat presents a different decontamination requirement is essential to the health and safety of First Responders and, ultimately, eliminating this ongoing epidemic."
For more information on First Line Technology, or a copy of the test results, please email DeconTect@firstlinetech.com or call 703-955-7510.
About First Line Technology
First Line Technology, LLC designs and manufactures disaster preparedness and response equipment, including PhaseCore personal cooling items, DeconTect decontamination products, and AmbuResponse mass casualty response systems. Our mission is to prepare for, protect against, respond to and recover from all hazards with lab to life-saving technology. For more information, visit www.firstlinetech.com.

Request more info from First Line Technology
Thank You!