PRESS RELEASE
Baker Ballistics launches a new website featuring rifle-rated ballistic shields ideal for patrol first responders
---
LITITZ, Pa. — Baker Ballistics is proud to introduce an expansive new website highlighting two new models of MRAPS® Series ballistic shields, specifically designed for patrol officers to reliably protect against multiple impacts of popular 5.56mm Green Tip SS109 / M855 ammunitions at muzzle velocities.
Most knowledgeable law enforcement weapon experts currently consider AR platform weaponry, loaded with inexpensive and popular .223 and 5.56mm Green Tip ammunitions, the most penetrating projectiles an armor-equipped American law enforcement officer may encounter while on routine patrol.
Within the United States the chances of LEO's being fired upon by .223 and 5.56mm caliber weapons are statistically many times greater than being fired upon by a .308 / 7.62mm x 51 caliber rifle – which is the NIJ level III ballistic testing caliber and a lesser threat to most hard armor than .223 and 5.56mm SS109 / M855 Green Tip.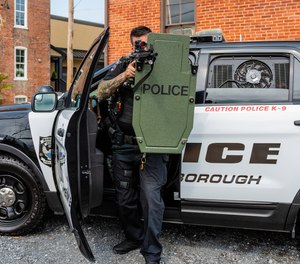 Baker Ballistics optimizes use of military grade armor materials, and combined with advanced construction techniques significant advances in weight reduction and multiple impact capabilities are achieved.  Users of MRAPS® Series ballistic shields can combine speed and maneuverability along with an ability to simultaneously deliver accurate firepower using patrol rifles.
About Baker Ballistics
Baker Ballistics, LLC began in the aftermath of the 09/11/2001 terrorist attacks in New York City.  Lt. Alfred J. Baker, a highly decorated officer now retired from the NYPD Emergency Service Unit, realized a great need for better equipment to protect the safety of America's law enforcement community.
Time has proven patented Baker Ballistics shields are now considered by many to be among the best life-saving types of protective equipment ever designed – now in use protecting the lives of thousands of law enforcement, military, and security personnel worldwide.
For more information visit the new and expanded Baker Ballistics website at www.BakerBallistics.com
Request more info from Baker Ballistics, LLC
Thank You!