SHOT Show Industry Day at the Range: Here's what's caught our eye so far
Check out this drone control center, a locking magazine and a dual-wavelength rifle sight. Plus: 5.11's bag designed to carry all your stuff
---
One of the highlights of SHOT Show is Industry Day at the Range. Held at the Boulder Rifle and Pistol club, members of the press, law enforcement and buyers get to not only see and handle the latest products, but we get to shoot them too.
5.11 C.A.M.S. 3.0
On Sunday night, 5.11 held its traditional SHOT Show get-together where I had a chance to look at some of the latest 5.11 products. 
As an NRA- and USCCA-certified instructor who teaches at multiple ranges, I need to carry a lot of gear with me. One bag that caught my eye is the C.A.M.S. 3.0. This bag is designed to "Carry All My, er, Stuff," unlike the smaller S.O.M.S. 3 bag, which is designed to carry only "Some of My Stuff" (I kid you not).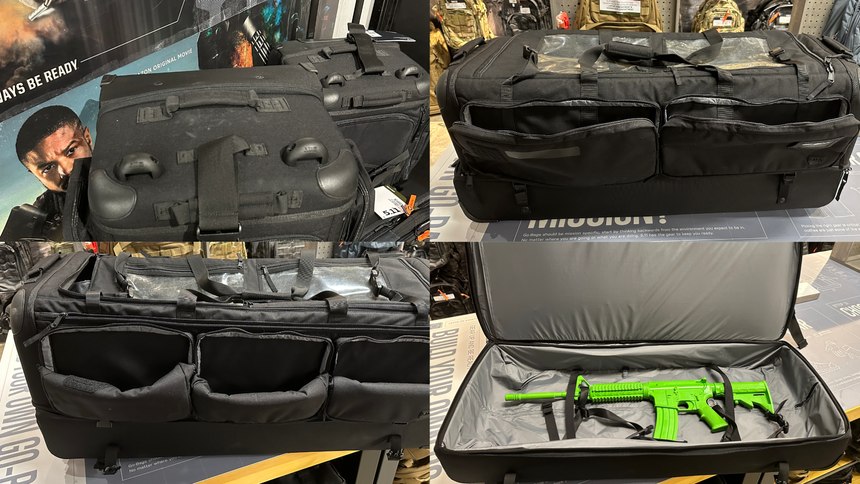 As you can see, this huge $375 roller bag can fit two rifles in their own bottom compartment and has two large equipment pockets on one side, three on the other and three document pouches on the top to store lesson plans or ICS forms such as your Incident Action Plan or maybe your dope sheets or inventory lists.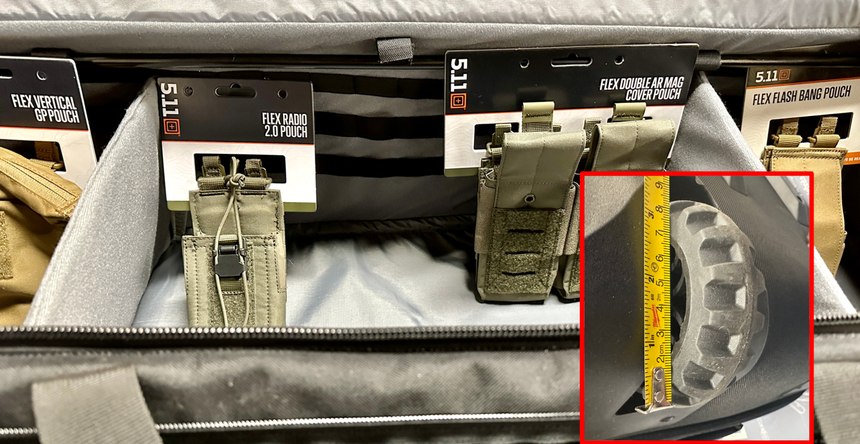 The center of the bag is lined with Velcro-topped MOLLE so you can store just about anything with a Velcro backing or that fits into a MOLLE-compatible pouch, including pistols, magazines, IFAK, tools and much more. And look at those 8" user-replaceable wheels for stability over rough terrain.
See more new gear at 5.11's SHOT Show booth 10334 and online here.
TruckVault Drone Responder 8
This is the eighth version of TruckVault's made-in-USA drone control center product. Based on user input, this MDO (medium density overlay) plywood vault bolts into the back of many SUVs and is shown here mounted into a Chevy Tahoe. It can support up to a 32" or larger monitor depending on the base vehicle and can have a second weapons locker drawer added to the drone storage drawer.
A large pull-out shelf with multiple charging outlets makes it easy to work on your drones either to configure them for launch, to perform repairs, or to charge them. Outlets also can be added to the storage drawer to keep your batteries charging while the vehicle is in motion. The list price is projected at $4,500-$5,500 when it is released in February 2023.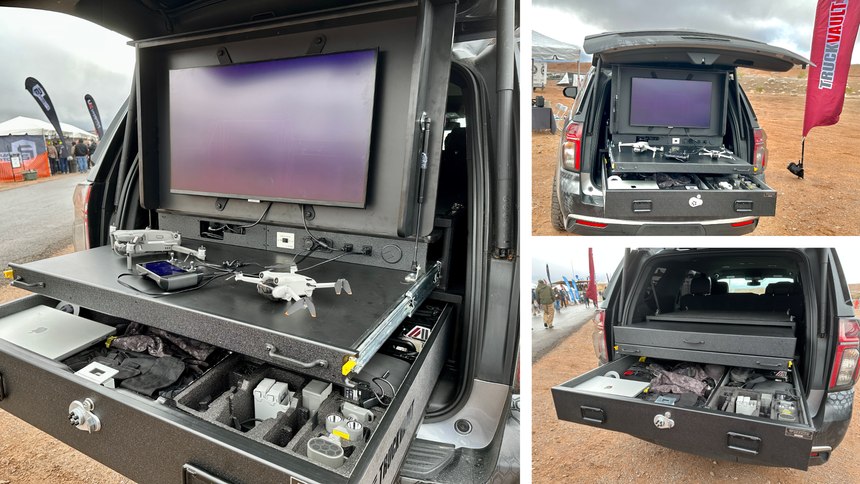 To demonstrate the durability of Truckvault products, the company recently set one of its vehicle lockers on fire and you can see the video below. For more products, check out their page on Police1.
Gosafe Mobile Safe
The Gosafe is a completely different approach to securing handguns – a locking magazine. Two styles are offered: with or without the ability to hold up to 10 rounds. The version without ammo completely locks the firearm action so it cannot be cycled. The other version allows you to cycle the firearm, but it cannot be fired until the magazine is unlocked.
Why choose one version over the other? The one that holds ammo will allow faster access to taking the first shot. But if your jurisdiction says that civilians are not allowed to store a loaded handgun, then the solid one is the required choice. 
The high-security barrel lock is at the bottom of the magazine, allowing it to work in all holsters. For agency purchases, multiple magazines can be keyed alike, or a master key can be created for the agency armorer. Pricing is $79.99 with versions available for popular Glock, SIG, and S&W firearms with more coming.
For more information, visit Gosafe at SHOT Show booth 43862 or online at https://go.lexipol.com/?target=lnk_EvjgTzeh9tNxTjZ6.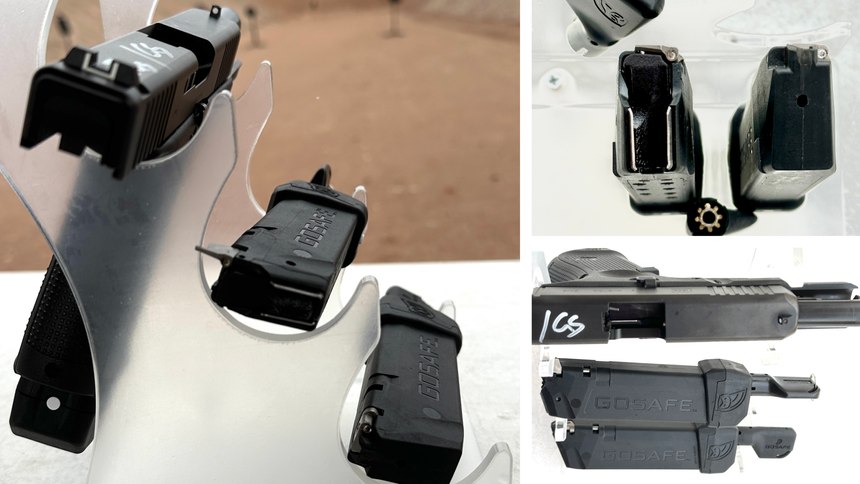 Holosun Night Vision
People joke about how if they tell you something, they have to kill you. At the Holosun Industry Day at the Range booth, I saw a product that is so hush-hush, it doesn't appear on their website, so you'll need to drop by SHOT Show booths 13420 and 20527 to get more info.
What I can tell you is that the Digital Reflex Sight (DRS) is dual-wavelength, available in visible + night vision or visible + thermal. When the front cover is flipped down, the scope switches to a camera up top to deliver its image to you through the visible optical path. No need to switch between sights or flip tubes in and out of the optical path. There is no pricing yet but Holosun tells me that it should ship before the end of 2023.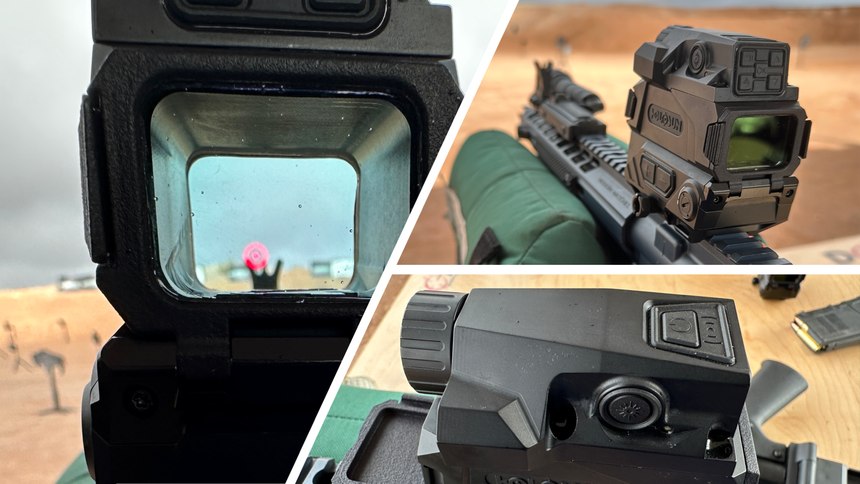 For more Police1 SHOT Show coverage, check out reviews from my fellow columnist Lindsey Bertomen and visit police1.com/shot-show/.

Request product info from top Police Drones/UAS companies
Thank You!