Case study: How data-sharing at Tenn. county sheriff's office, PD improves day-to-day operations
A cloud-based platform has given the departments the ability to collaborate to share data, build robust criminal cases, and solve crime efficiently and effectively
---
Content provided by CivicEye
Law enforcement officers don't have minutes – or even seconds – to waste. When an officer pulls someone over on the side of the road, they need to immediately access outstanding warrants.  
In 2023, when your average citizen can share information globally and instantly, you'd imagine that law enforcement officers have that same capability, if not more.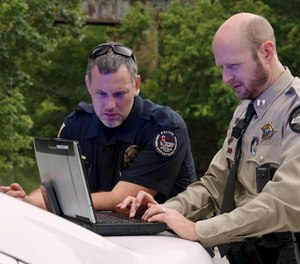 Most don't. 
Sheila Hillis is a warrants officer with White County Sherrif's Office in Tennessee. When an officer needs to search for outstanding warrants from neighboring counties, he or she will give Hillis a call. 
"Sometimes they'll have me call surrounding counties, and you have to go through the recording that the stations have … and it takes forever. While my officer is sitting on the side of the road, I'm trying to see if this other county [has outstanding warrants on this person]," Hillis explained. 
Alongside the potential danger officers face in these situations, officers are forced to waste valuable patrol time waiting for information access. This isn't to mention the countless hours officers spend writing reports, trying to validate reports and preparing Grand Jury Packets.  
Today, officers' time is more valuable than ever as law enforcement agencies struggle to recruit and retain officers.  
CivicEye believes that software can radically impact and improve officers' day-to-day operations, safety and effectiveness. In the case study below, we'll show you how. 
GAPS IN COMMUNICATIONS
White County Sheriff's Office and Sparta Police Department have a total of 55 total officers and sheriffs combined and serve a population of 32,029 people. The two agencies, located in eastern Tennessee, were accustomed to gaps in their vital, everyday communications. 
"A lot of the time, we have the same suspects, but before [using CivicRMS], we would've never known that. [Now,] they can go in and see the same cases that we're working on and mutually work together to solve certain cases," Theiss said.  
Nick Dunn, a detective with Sparta Police Department, explained how information gaps impacted the prosecution and indictment process.  
"The way it was before [CivicRMS]: the sheriff's office would build a case on 'this person,' [while] the city would also be working on that [same] person. Whoever has the best case is what they're going to prosecute. 'You plea to this, we'll dismiss this one,' and give them a plea deal. Whereas now, if we put it all together, it's one big case that gets indicted, instead of them holding 'this case' or 'this case' over their head," Dunn stated. 
sharing capabilities across jurisdictions
Before CivicRMS, each agency utilized a separate record management system (RMS). White County Sheriff's Office and Sparta Police Department chose CivicEye for its sharing capabilities across jurisdictions, its seamless integration with CAD and JMS and CivicEye's committed support staff readily available to mitigate issues.  
With CivicRMS, both agencies can streamline their reporting efforts not only by inputting the details associated with a crime or case but also by sharing it with ease both departmentally and with the prosecutor's office. The cloud-based platform enables officers and personnel to access the same data in real time on a secure, two-factor authentication device. 
"Compared to how it used to be, switching to CivicEye has been a big upgrade. With CivicRMS, Sparta Police Department and White County can work together on one case that can be indicted exponentially faster. It streamlines our work, from the initial incident report up to the court," Dunn said. 
While any new technology can be challenging, CivicRMS is easy to learn.  
"Once you've learned it and you've done it – and it doesn't take long – it's very simple. CivicEye walks you right through what you have to do … you can't mess it up … it's just that simple. You may have a few more clicks, but it's so much faster," Hillis said. 
Solve crime efficiently and effectively
With CivicRMS, White County Sheriff's Office and Sparta Police Department have collaborated to share data, build robust criminal cases, and solve crime both more efficiently and effectively. Sheriffs and officers have not only minimized reporting time, but through data-sharing between agencies, they can access critical data that enables them to approach situations with more intel than ever before. By partnering with a cloud-based software company, agencies can work across jurisdictions with strategic insight and analytics to combat crime. 
Here are some specific ways that CivicRMS impacted the work of White County Sheriff's Office and Sparta Police Department. Before CivicRMS, White County Sheriff's Office and Sparta Police Department didn't have access to an integrated Jail Management System (JMS). Now, both agencies can easily access data on active populations within local jails and use this information to solve cases. 
"We now have the Jail Module, which is BluHorse, which is a mutual company with CivicEye. Now, right there in my car, I can see the active population in the jail. When there might be somebody that we're looking for that's a possible suspect, I can just search it quickly and [know], 'Oh, I know it's not him … he's in our jail.' So that helps a lot – the additional data from our jail system," Theiss said. 
Additionally, White County Sheriff's Office and Sparta Police Department have benefited from CivicRMS's tools to create a Grand Jury Packet. Before implementing CivicRMS, law enforcement officials had to compile physical documents, hard drives, DVDs and CDs for their Grand Jury Packets. Now, CivicRMS creates instant Grand Jury Packets, which include all necessary reports and evidence. Officials can directly send this information to the District Attorney's office when it's time for an indictment.  
"There aren't hours sitting on end printing off your report, printing off the evidence sheet, burning video to a DVD – it's all uploaded in one [place]," Dunn said. 
This seamless, digital process has saved time for both law enforcement agencies and district attorneys by eliminating the travel time needed to transport files and evidence back and forth. 
Alongside these improvements, law enforcement officials have benefited from CivicRMS's anywhere, anytime platform. In contrast to popular methods of reporting, such as through physical paperwork or base computers, law enforcement officers can use CivicRMS through a cellphone, laptop or an iPad directly on the scene. 
"You can take pictures and directly upload it into CivicRMS, you can look up people. If you've had any other contacts with them, they're probably going to be in the system – you don't have to add that person again and again. Look them up, click their name; they're in there already. That's made the calls for service – the time – go way down. Where [in the past], you had to write everything down, go to the police department, do your reports at the police department, now you can do it all on the scene," Dunn said. 
Improving outcomes 
With modern, digital tools like CivicRMS, law enforcement agencies can improve community outcomes, multiply their workforce and better support their officers.  
Law enforcement officials didn't choose their careers because they're passionate about paperwork. They're passionate about protecting their communities and making them safer. With CivicRMS, law enforcement officials spend less time printing reports and more time making a difference. 
To learn more about CivicRMS, click here or schedule a demo here.

Request information from CivicEye
Thank You!