Guide: Armory management for law enforcement agencies and correctional facilities
Good armory management involves keeping costs down without compromising your operational capabilities
---
Content provided by Real Time Networks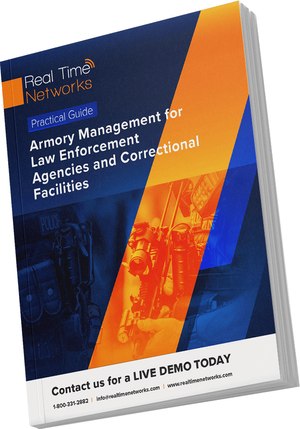 In the world of criminal justice, effective armory management is more crucial than ever. Law enforcement agencies, correctional facilities, and other justice institutions face unique challenges that demand innovative solutions.
Our guide, "Armory Management for Law Enforcement Agencies and Correctional Facilities," delves deep into these challenges and presents forward-thinking strategies to address them head-on.
What's Inside?
The Costs & Challenges of Manual Armory Management
Discover the hidden drawbacks of relying on outdated manual armory management processes. Explore the financial and operational tolls that come with paper-based record-keeping, inefficient weapon tracking, and limited accountability. This section sheds light on the potential risks that organizations face when not embracing modern armory management solutions.
Benefits of Using Smart Armory Management Systems
Unlock a new era of efficiency, accountability, and security with smart armory management systems. Learn how cutting-edge technology can revolutionize your armory operations. From real-time weapon tracking and inventory management to enhanced security features and streamlined compliance, we detail the manifold benefits that these systems bring to your agency or facility.
Bonus+ - Assess Your Security Readiness
As a special bonus, we offer a practical checklist assessment tailored to your organization's needs. Determine whether smart armory lockers are the right fit for you. Gauge your current security readiness and discover how implementing smart armory management systems can elevate your capabilities.
Streamline Armory Management and Boost Efficiency
Are you ready to take control of your operations, reduce costs, and enhance security? Download our PDF guide now and embark on a journey toward optimized armory management. Equip your law enforcement agency or correctional facility with the strategies and solutions it needs to thrive in a rapidly evolving landscape.
Fill out the form below to download the free guide.
Guide: Armory management for law enforcement agencies and correctional facilities