Webinar: Educational access for everyone inside prisons
Learn how to scale digital education for incarcerated individuals using wireless, handheld devices.
---
Webinar sponsored by Amazon Web Services
Before COVID-19 removed all in-person instruction, about 1 in 5 people who are incarcerated got access to education, but that is now rapidly changing ... for the better. Edovo, a mission-driven enterprise, is making digital education and self-improvement tools a daily reality. Over the past years it helped fuel the growth of wireless connectivity and personal handheld devices in prison nationwide, and in a few short years ahead, everyone who is incarcerated will be able to have free daily access.
By carefully navigating the corrections landscape, Edovo is uniquely positioned to deploy a platform that will not only enable education on all devices, but virtually and securely connect mentors, teachers and volunteers directly into the self-improvement journey. For the first time, educators and service providers will not be fighting to get inside, but figuring out how to scale.
Register below to attend this webinar on Wednesday, October 28 at 1 p.m. EST / 12 p.m. CST / 10 a.m. PST.
OUR SPEAKERS
Brian Hill, CEO, Edovo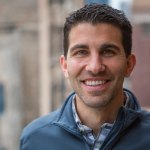 Brian Hill is the CEO of Edovo, a Chicago-based venture that aims to reduce recidivism by bringing tech-enabled education and communication tools to incarcerated people. Brian was in his first year of a JD/MBA at Northwestern University when he began work on a Social Impact Bond initiative for the largest single-site jail in Chicago. This exposure prompted him to create the Edovo platform, which has scaled nationally and reached over 300K incarcerated students. Brian's impact-driven work has been recognized by many national platforms, and he was named one of Conscious Company's "Social Entrepreneurs to Watch." He earned a B.S. in economics and business from Brigham Young University, is a father of four and is committed to making serious changes in corrections and re-entry through technology.
CONTRIBUTORS
Ryan Reynolds, public safety leader for Amazon Web Services
Ryan began his career with the US Army, including service as military police. Ryan has been working in information technology and police services for 20 years. Ryan Joined AWS in April 2017 and has built a team to deliver solutions that work backwards from the challenges facing law enforcement, courts and corrections, fire/EMS and emergency/disaster response.
Matt Melton, business development manager for justice and public safety at Amazon Web Services
Matt is a graduate of the US Naval Academy and served as a naval intelligence officer. Since leaving active duty in 2012, Matt has been focused on bringing innovation into the law enforcement and public safety communities. After working at multiple startups in the law enforcement space, Matt joined AWS in January 2018, where he focuses on working with agencies and technology companies to solve critical problems facing the public safety community.
MODERATOR
Nick Bruckner, corp. vice president of sales
Nick Bruckner oversees the day-to-day sales strategy and growth for Lexipol. Prior to joining Lexipol, Nick served as executive vice president, marketing platform at Praetorian Digital. In these roles, Nick has over 15 years of revenue growth leadership and personally secured some of the largest agreements on record with brands like Verizon and GP.
Complete form to register for the webinar:
Complete form to register for the "Educational Access for Everyone Inside Prisons" webinar: