Roundtable: Police tech experts gaze into the crystal ball
Four experts on the frontline of law enforcement technology tell us what to expect 15 years out
---
From crafting policy to tactical considerations, PoliceOne's 2017 Guide to Emerging Technologies features expert analysis on soundwave technology, facial recognition software, handheld narcotics analyzers, the future of traffic stops, how constitutional law impacts the collection of data for investigations, and how advancements in biometric technologies will help improve correctional facilities.
Experts will tell you that technology is advancing faster than ever. That's already had a profound impact on how law enforcement officers do their jobs. And there's no sign of that rapid advancement abating.
To help departments not only anticipate the next wave of police technology, but actually prepare for it, we spoke with four noted experts on the topic. Here's who they are and what they had to say.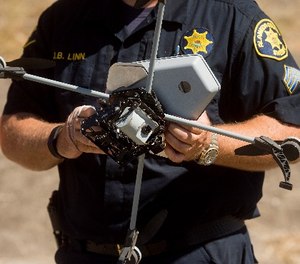 • Rod Guy, vice president of strategy and business development, NICE Public Safety
• Tom Joyce, vice president of business development, Vigilant Solutions
• Dan Law, head of data analytics, Motorola Solutions
• Dominick Passanante, senior director of sales, public sector, health care and the channel, Panasonic System
P1: What emerging technology do you see law enforcement adopting by 2022?
Rod Guy: I see three major technology trends emerging in law enforcement: big data, analytics and the cloud. These trends are driving the adoption of new solutions, particularly in the areas of digital investigations and evidence management.
Police departments face a "big data" problem. Crime solving in the 21st century hinges on digital evidence. But there's so much data coming from so many silos that it's becoming increasingly difficult for investigators to ingest it, correlate it and absorb the relevant facts of a case.
Detectives often have to log on to a dozen systems and manually search for connections in cases which wastes time and increases the likelihood that crucial evidence will be missed. Departments also lack scalable solutions for crowdsourcing evidence. In a major investigation, a server can quickly crash under the weight of large volumes of files. Investigators also struggle putting disjointed evidence into context.
Scalable, cloud-based digital investigation and evidence management solutions solve these problems by consolidating silos into a single log on and by providing built-in evidence collection, crowdsourcing, content analytics, visualization and evidence sharing tools to make investigators more efficient and effective crime-solvers.
Dominick Passanante: One of the largest initiatives impacting agencies in the next several years will be the roll out of the First Responder Network Authority (FirstNet). FirstNet has been tasked with building, operating and maintaining the first high-speed, nationwide wireless broadband network dedicated solely to public safety use. In order to create a single, interoperable platform for daily and real-time emergency communication, all agencies across the country will require a radio access network that is connected to the FirstNet Network.
It will be important for agencies to evaluate mobile hardware that meets the new requirements while still providing officers the reliability and job efficiency they need in the field. We're seeing a growing interest in 2-in-1 fully rugged laptops and predict these will be popular solutions for agencies across the country in years to come.
Dan Law: The most exciting technologies law enforcement could be using by 2022 will be built on machine learning and artificial intelligence. Data analytics and machine learning allow us to find patterns in data, so we can optimize resources or prescribe strategies to reduce crime.
Artificial intelligence is an advanced type of machine learning in which computer systems perform tasks that normally require human intelligence, such as visual perception and natural language understanding.
Tom Joyce: I see the use of drones in the public safety and law enforcement space being ubiquitous by 2022. They are a very exciting capability that has many benefits over what is currently used in many types of operations.
Why do you think this technology will be used in law enforcement?
Joyce: This technology puts fewer lives at risk, can save an enormous amount of money and resources and can do things that current solutions cannot perform. For example, drones can travel into tight spots or high-risk situations where a helicopter cannot or should not be deployed.
Passanante: FirstNet will allow officers to share images, video, GPS data and other information in real time when it matters most – whether they are located in a major metropolitan city or a rural area. The network will allow public safety organizations to communicate easily and without interference. To ensure FirstNet works properly, agencies are going to invest in durable mobile technology that will serve them out in the field and also help lower their total cost of ownership.
Law: Everything in the world is becoming smart – from the lampposts in our cities to the cars we drive. All of these smart objects are capturing information, making more data available than ever before.
Particularly for law enforcement, data is coming from many sources: surveillance cameras, records management systems, 911 calls and body-worn cameras. Capturing, managing and storing data is a challenge today.
It's even more difficult to look at all of that data and derive something meaningful from it. That's where data analytics and artificial intelligence come in.
Guy: This technology will see wide-scale adoption because the volume and variety of digital evidence is growing every day, while the manual methods investigators use to collect, analyze and share it simply haven't kept pace. Police departments need better tools so they can leverage all of the available digital evidence to improve case solvability and reduce crime rates.
Consider how new digital investigation and evidence-management technology will revolutionize how investigators work. In addition to collapsing digital silos into a single log on, the technology can search across all connected systems and recommend relevant evidence.
Advanced content analytics will make all structured and unstructured data sources searchable – including audio recordings, databases, narratives from CAD comments, incident reports, FI cards, reports, documents and more – so investigators can uncover connections, generate new leads and solve cases faster.
How will this technology benefit law enforcement operations?
Law: One example is a demonstration we showed during Amazon Web Services' annual Re:Invent conference, [that] was constructed around a missing person scenario.
To provide a more efficient alternative to a traditional "be on the lookout" call, we built AI software that can detect faces in the real-time video feed of our combination body-worn camera and radio speaker microphone. This allows the device to serve as a sensor that is always looking for a missing person.
The software passes those faces onto a secure AI service, which checks the face against a missing persons database. All of this happens in real time as an officer is patrolling an area. If an officer's camera picks up a face that is in the missing persons database, it triggers a voice alert.
Joyce: Whether it's an ongoing tactical situation, the processing of a crime scene, a natural disaster, to name just a few, drones can provide a significant advantage.
Imagine a camera-equipped drone surveillance of a vehicle in a police chase of a violent felon. The risk to police and public lives is greatly reduced, the costs lowered tremendously and evidence can be collected in the form of video.
Guy: First, law enforcement agencies can save a significant amount of time and money by automating their digital investigations. In addition to streamlining their collection and analysis of digital evidence, investigators no longer need to physically copy evidence onto media and hand deliver it to prosecutors.
But make no mistake – by using technology to tame the rising tide of big data, police departments will not only save time and taxpayer dollars, they'll be able to get more criminals off the streets. Because when investigators spend less time on manual tasks, they can concentrate on solving cases.
Technology can also go a long way toward improving case solvability. Thanks to content analytics, investigators will be able to uncover insights, connections and leads that could otherwise remain obscured.
Passanante: First responders and officers alike seem to agree that the move to a wireless broadband is necessary, particularly during national disasters. When a major event happens, everyone begins calling and texting to make sure loved ones are safe, but that places a tremendous burden on networks.
Now that most people own a mobile phone, it creates an enormous amount of traffic that impacts first responders by limiting or preventing their ability to place calls for help or receive life-saving data. As agencies move to the new private wireless broadband, they will be able to stay connected at all times, especially in times of disaster.
What policy issues (privacy or legislation) should law enforcement agencies consider with this emerging technology?
Guy: Like the other law enforcement solutions, this new technology is governed by existing CJIS security policy requirements. CJIS security policy was established to put minimum security requirements in place to protect and secure FBI criminal justice information.
All applications and services used by criminal justice agencies to transmit, process or store CJI, including cloud services, must comply with the CJIS security policy. A law enforcement agency deploying new technology should feel comfortable that the companies providing the cloud service/application have real-world knowledge of CJIS security policy compliance and can demonstrate their readiness to comply with the policy.
Passanante: With the rollout of FirstNet, agencies need to carefully consider the mobile technology they are deploying to meet privacy and security requirements. FirstNet will be built with layers of security to protect data and defend against cyber threats, and agencies will need to evaluate mobile hardware that meet security protocols.
Security policies will be developed alongside the Department of Homeland Security and the Department of Defense to meet National Institute of Standards and Technology requirements, which means your agency's mobile solution must be compliant and must have the functionality to meet those requirements.
Research vendors carefully when selecting your mobile technology to ensure your devices have the necessary security capabilities.
Joyce: Currently the FAA must approve drone usage. But in lieu of future legislation, public safety agencies must adopt strong policies and strictly enforce their usage to conform to those policies. Illegal or inappropriate surveillance will not go over well in the United States.
What I hope for is an open dialogue between the privacy advocates and the entities that see the need for drone deployments where facts and good intentions toward the public's safety is weighed against an infringement of an individual's rights and an appropriate balance is decided on. That conversation must take place because an emotional discussion, without facts, weighted in privacy is not good for anyone.
Law: As with any technology, new capabilities can raise questions about policy and privacy. In terms of artificial intelligence specifically, AI has the power to assess information so quickly that storing everything isn't always necessary.
In our facial recognition demo, at no point is a face stored on disk, and at no time is a face accessible by a human unless there is a match in the missing persons database. All unmatched faces are deleted without a trace.
How can agencies prepare for implementation of this future solution?
Passanante: As the nation prepares to move toward full integration of FirstNet, invest in mobile hardware now that is purpose-built with MIL-SPEC durability and reliability to ensure your technology works when it matters most. While FirstNet will provide first responders with tremendous benefits on the job, its full potential will not be realized unless mobile technology can keep up with the demands of the job.
Begin evaluating mobile solutions now so your department will have reliable technology for years to come.
Law: Artificial intelligence requires computing power – and lots of it. Doing facial recognition on body-worn cameras, for example, is better suited to cloud computing, rather than depending on proprietary on-premise hardware.
To prepare for a future when law enforcement agencies have AI as part of their workflows, I'd encourage them to carefully consider their future computing needs, which will likely continue to grow as technology continues to advance and as even more data is created.
Guy: Agencies should start by doing a self-assessment of how they conduct investigations so they can identify areas for improvement. By reviewing current processes, agencies will be better prepared to assess how new digital investigation and evidence management technology will help.
Joyce: Agencies need to be testing and training with drones to ensure competency in operating them, but also to examine various types of drones that would eventually settle on the correct deployments for each respective agency.
Also, a heavy concentration of legal and constitutional law review, FAA regulations, a close monitoring of pending legislation and an outreach to the privacy-advocacy groups to share ideas, perspectives and concerns from both sides should be done now, ahead of full deployments. That will save a massive amount of heartburn later.