Secure Outcomes Introduces LS1100 Family of Forensic-Quality Livescan Products
---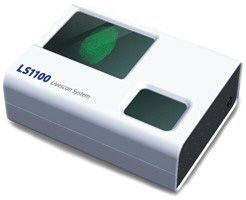 Secure Outcomes has designed the LS1100 products to be the Best, the Easiest to Use, and the Most Affordable forensic-quality livescan products available anywhere.

The LS1100 system is designed to be permanently mounted in your booking station or to be carried in the field powered by its internal power pack - or both. The system employs a color touch screen which makes the unit extremely simple to use with no external mouse, keyboard, data cables, or cumbersome foot pedal.
The LS1100 collects forensic-quality full-rolled and 4-slap prints and then formats and prints the standard FBI as well as all state and local print cards. In addition, the LS1100 allows previously seen prints to be looked up and also transmits print information electronically.

• Full-Rolled and 4-slap prints
• Print FBI/DOJ/all state and local cards
• Store prints for later lookup
• Transmit prints electronically
• Permanent at booking station and/or mobile in the field with internal power pack
• Plug-and-play. Fast and foolproof
• Extreme ease of use with touch screen
• Simple to understand on-screen video training
• No complicated commands
• No mouse or foot-pedal needed
• No PC needed
• Designed for officer safety
• Affordable - under $10,000
• Advanced electronics with extreme low power needs - 1/10th that of the competition leads to very long battery life in the field
• Lightweight/compact for Jump Kits
• Automatic image quality check
• Automatic Internet software updates
• Crypto system protects fingerprint data
• No setup - Configured for your jurisdiction
• System operates in English, German, Spanish, French, Chinese, Russian, Arabic, and Japanese and prints all international cards
• Print card printer included and configured
• Rugged ABS heavy plastic case (same material used for football helmets)
• Rugged 3.75" x 3.50" 500PPI scan device
• FBI F/N scan head certification
• Universal power supply works anywhere on this planet
• 15" width x 12" depth x 6" height. 12 lbs
• Optional latent and/or palm print capability
• Optional full-booking system
• Optional hardpack carrying case for rugged outdoor use
• Optional MILSPEC 810F certification

For more information, visit Secure Outcomes online at www.secureoutcomes.net.