How FirstNet bolstered communications for Boston Marathon first responders
Five years made a world of difference to first responders on the ground in Boston on race day
---
By Michael Varney, First Responder Network Authority, Northeast Area Lead
Despite the cold rain and driving wind, hundreds of thousands of cheering spectators lined the streets of Boston to witness one of the world's oldest annual marathons: the Boston Marathon. This year, the race took on added significance as it marked the five-year anniversary of the 2013 bombing. The memory of that day will linger ­– not only for the runners, onlookers and area residents who witnessed the day's events unfold, but for the millions of people around the world who were shocked by the senseless tragedy. 
Many will recall in the aftermath of the bombing, the FBI and the Boston Police Department sifted through massive amounts of data, video and images of the scene sent by citizens and first responders. It was this data that ultimately helped locate the perpetrators and reinvented the way first responders use video, voice and text during emergency responses.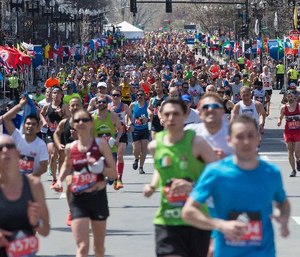 Unfortunately, our nation has experienced several similar situations since that day in 2013, from natural disasters to terrorist incidents, where our nation's first responders have needed their own broadband network to communicate and share information. Enter FirstNet, the first nationwide broadband wireless network dedicated to public safety. The network is operational in all 50 states, the District of Columbia and five territories.
Keeping the city safe during the Boston Marathon
These days, the success of large-scale events is not only measured by the number of spectators in attendance or souvenirs sold, but by the amount and thoroughness of the security and safety measures taken. Since 2013, the City of Boston has significantly increased security on marathon day. During this year's race, over 7,500 public safety personnel, including 5,000 state and local uniformed police, were joined by National Guard members to line the 26.2-mile race route. In addition to these boots on the ground, law enforcement set up several command centers and 35 security checkpoints, activated over 100 surveillance cameras and deployed three tethered drones to monitor the area around the race course.
Keeping attendees safe at events the size of the Boston Marathon requires first responders to communicate seamlessly and gather vast amounts of information, mostly generated from their handheld devices, which display images from around the area. Police officers, firefighters, paramedics and EMTs working at large-scale events rely on time-sensitive information to improve their situational awareness and maintain safety and security throughout the event.
Even with access to this valuable information, experienced first responders know that the data gathered is only as good as the communications network that carries the information to the intended recipient. Poor network coverage or insufficient capacity can mean the difference between a successful public safety mission and dealing with an emergency that could impact hundreds, if not thousands, of people.
Enter the FirstNet network
At the 2013 Boston Marathon, thousands of spectators and residents recall reaching for their mobile devices to frantically locate family and friends. While this is a natural human response to an emergency situation, the high call volume saturated the local cellular networks, causing signal delays and failed calls that rendered mobile phones nearly useless. For area first responders on duty that day, the consequence of poor network coverage and capacity was dire – the lack of a reliable network delayed the ability to communicate and share images and videos during the critical hours after the explosion in Copley Square.
At this year's Boston Marathon, instead of experiencing lost or delayed signals, the network held steady. With the help of AT&T, which is deploying FirstNet, first responders experienced reliable communications and prioritized access to an LTE broadband network during the event. Instead of slow or lost signals, first responders covering the race experienced boosted coverage, connectivity and capacity, despite the increased network traffic.
Additionally, AT&T distributed 80 ruggedized FirstNet devices to first responders working the race, 30 of which were outfitted with SIM cards connecting public safety to the dedicated FirstNet Core, which helps handle the added network traffic generated at major events like the Boston Marathon. By separating commercial traffic from public safety traffic, the Core's platform guarantees first responders are always connected with priority, preemption and local control.
"FirstNet definitely enhanced that communication like we've never had before," Scott Wilder, director of technology and communications for the Brookline Police Department, who was on duty during both the 2013 and 2018 Boston Marathons, said. "During the Boston Marathon in 2013, we lost our wireless. Having the FirstNet network in place would have made those communications that we lost active."
On race day, the Boston and Brookline police, fire and incident response teams experienced the FirstNet difference by using push-to-talk, land mobile radio integration and location-tracking applications to coordinate response efforts in real time between dispatchers and emergency responders in the field. Often, these capabilities are inaccessible during large-scale events due to congested networks and poor bandwidth or connectivity.
Having access to location-tracking apps provided responders with unique capabilities. The Boston Fire Department used FirstNet application tracking software to locate personnel and resources for quick dispatch to an incident. For the first time, commanders could see the position of responders on a screen, saving valuable response time. Similarly, the Boston Police Department used the apps to track the fastest runners in each race category and to determine the location of key assets in the vicinity that could be dispatched quickly to an incident. This helped police make faster decisions about crowd control, street closings and traffic congestion.
The FirstNet-ready equipment and network also proved valuable to connecting Brookline and Boston police and fire teams on one reliable network. Public safety has long asked for interoperable communications between disciplines and across jurisdictions in day-to-day operations and especially during big events.
With AT&T's added capacity on race day, police and fire personnel experienced how FirstNet differs from today's commercial networks with its dedicated spectrum, public safety grade network and priority and preemption. By not having to worry about whether they could access the network, police and fire staff could focus on their jobs: maintaining safety and security on race day.
What is the FirstNet Network?
In the aftermath of the events of the Sept. 11, 2001 terrorist attacks, Congress created the First Responder Network Authority to implement and operate FirstNet, a highly secure wireless broadband nationwide network dedicated to public safety communications. Last year, governors of all 50 states, five territories and the District of Columbia adopted FirstNet to fulfill their emergency communication needs. Now that FirstNet is being deployed, the seamless and reliable emergency communications experienced by the first responders at the Boston Marathon are being replicated across the country. With each passing day, more agencies, cities and counties are subscribing to FirstNet services. Currently, more than 650 agencies in over 48 states are experiencing the benefits of FirstNet, including:
Immediate, interoperable, mission-critical services with priority and preemption.
Greater network security.
More efficient, coordinated network deployment nationwide.
Better network sustainability and modernization for public safety for years to come.
Now with FirstNet, first responders are guaranteed true priority and mission-critical, high-speed data and voice services to further enhance emergency response efforts. As more communities subscribe to FirstNet services, first responders across the country will soon share Boston's experience of communicating over a superior network.
To learn how your city, county or agency can connect to FirstNet, email info@firstnet.gov or visit www.firstnet.gov.
---
About the Author
Michael Varney serves as the Northeast area lead for the First Responder Network Authority, providing outreach and consultation to public safety agencies from Virginia to Maine, including Massachusetts. Michael hails from the State of Connecticut where he served in information technology and public safety communications positions for 28 years. Most recently, he served as Connecticut's Statewide Interoperability Coordinator and single point of contact. In addition to those roles, Michael served as the chairman of the National Council of Statewide Interoperability Coordinators (NCSWIC) and was the NCSWIC's representative on the FirstNet Public Safety Advisory Committee (PSAC). Michael has a deep public safety background serving for over 30 years in the fire and emergency medical services, including as fire chief of the Ellington Volunteer Fire Department.