How to spec out a mobile command vehicle
Purchasing a mobile command vehicle for a law enforcement agency requires combining up-front decisions and long-term planning
---
Of all the hardware a public safety agency can bring to an incident, a mobile command vehicle (MCV) is arguably the most impressive. These vehicles are available in a variety of sizes and configurations ranging from small to extra-large.
As both natural and man-made disasters continue to expand in scale, these vehicles offer localities an asset that enables communication and coordination between multiple responding agencies.
While MCVs tend to be custom-ordered, they share a core set of features.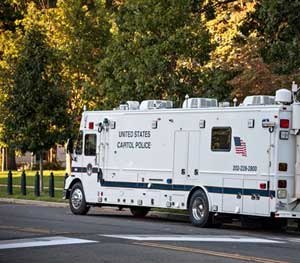 Communications: There is usually a radio mast, consoles and electronic gear to allow the MCV to replace or augment a communications center than has been disabled due to a disaster, or is too distant to be effective.

Meeting rooms: There are meeting rooms equipped with whiteboards and large-format TV displays for planning and briefing sessions.

Power and water: An onboard generator, water supply, and lavatory allow the MCV to operate independently for days or weeks at a time. 
Here are eight recommendations for configuring and deploying a law enforcement MCV. 
1. Decide on your platform.
Public safety agencies have many options to select from. These include: 
Motor coach MCVs feature several operational slide outs to provide more interior working space once the vehicle is on scene. Larger communities or jurisdictions often select this model due to higher frequency of use by multiple agencies across multi-jurisdictions. These vehicles can also be used for large public events where the MCV may be operational for extended periods.

Small van-type MCVs use a commercial van chassis and are well-suited for smaller organizations and communities where the need for a MCV is less frequent, but still exists. A van chassis and cab can also be used, but the cargo area is removed and replaced with a command post module, which can expand the operational area's cubic footage.

MCVs built on a trailer frame are an option for departments with a smaller budget. Trailer MCVs can be designed as a bumper-pull style, a goose-neck style or as a fifth-wheel style trailer with many options and layouts available.
2. Dispatch the MCV early. 
Pay extra attention to the time and effort needed to set up the MCV for use. If the situation requires repositioning the MCV at the site, you want to do it as quickly as possible. 
3. Easy accessibility. 
Make features and resources accessible from outside the vehicle. Charging stations for portable radios, ports for communications and power cables, display screens, and even water taps on the exterior allow for greater flexibility and less traffic in and out of the door. 
4. Restrict access. 
When the MCVs are parked out of service, restrict access to authorized personnel who know how to operate the gear properly. 
5. Driver licensing requirements. 
Consider that some of these vehicles require drivers to have commercial licenses. Firefighters may be exempted; cops usually aren't. 
6. Schedule maintenance. 
Implement a regular maintenance program that includes driving the MCV at least once each month. Otherwise, you may have a dead asset that won't be available when you need it. 
7. SOP to deploy and staff. 
Have a clear SOP on how the MCVs are used, who occupies them and when. Allowing commanders to lounge inside the MCV while the worker bees labor in the weather is a morale-killer. 
8. MCV security plan. 
For every deployment, have a site security plan in place. If the command post is overrun by hostiles, you have two emergencies to deal with instead of one.