A hidden device can catch thieves in the act
Bait technology is being used to thwart property crimes and build goodwill with the community
---
The following is paid content sponsored by Assisted Patrol.
By Police1 BrandFocus Staff
Thieves are frustratingly hard to catch. Most steal frequently, and stakeouts put a strain on police agencies working to allocate limited resources to protect and serve. Bait devices can help cops curb theft by catching thieves red-handed, and the technology makes it easy to engage citizens in the process.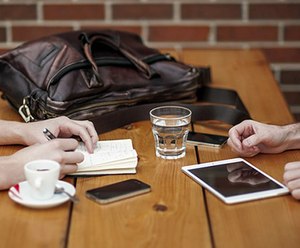 Fighting back
Using bait vehicles to catch car thieves is nothing new. Now Assisted Patrol is bringing the "bait car" model to fighting property crime. Thieves are caught in the act with stolen tablets and cellphones, making arrests and convictions easier. Catching crooks and reducing local theft rates also spreads goodwill with the public, easing frustration that police haven't been able to do more.
The company, based in Dayton, Ohio, was founded by software entrepreneur David Gasper after he noticed a rash of car break-ins in the city's South Park historic district. Gasper developed the Assisted Patrol system after a series of brainstorming sessions with Dayton police, who helped him design the product.
The system consists of sensors to determine a theft, text notifications to monitoring officers, a camera to take photos of suspects in the act and GPS tracking – all in real time. The electronic trail provides evidence from the day of the offense all the way to trial, says Sgt. Chris Chopin of the Grand Prairie (Texas) PD, whose department has made several arrests using Assisted Patrol.
The Assisted Patrol system, which can be deployed in one day after less than an hour of training, operates on a live cell phone or tablet that has added security features to prevent thieves from removing the SIM card or powering off the device.
 The bait technology can also be applied to other items, such as backpacks, bicycles or purses, and in a variety of locations, such as libraries, shopping malls, bars and airports, according to your community's needs.
A success story
Frustrated by persistent property thefts in the downtown entertainment district, Dayton PD used the Assisted Patrol bait products to reduce thefts from vehicles downtown by 80 percent. In a 40-day period in 2015, police arrested and convicted four high-rate offenders, who had combined rap sheets of 45 felony arrests.
"We have seen that these arrests can lead to solving other thefts," said Gasper. "Police find other stolen merchandise, trails to pawn shops, etc."
The bait devices enabled Dayton PD to effectively address the problem without having to assign officers to expensive stakeouts that draw officers away from other crimes. Police planted the devices in plain sight in locations prone to theft, armed them and waited for notifications on their smartphones while performing their routine duties.
When a thief stole a given device, it sent text alerts immediately to officers and began taking photos of the suspect. As the suspects fled the scene, the GPS tracked and reported their movements instantly. Each thief was arrested and convicted – and clueless as to the technology used to arrest them. Dayton PD is now looking for other ways to use the technology, depending on what is being stolen at the time.
"The possibilities for such devices and technology are endless," said Major Brian Johns, Dayton PD.
Building on their success in curbing thefts downtown, Dayton police partnered with residents in another neighborhood plagued by property crimes, where thieves would hit 15 to 20 cars in one night, leaving damaged property and upset residents in their wake.
Selected residents were given loaner Assisted Patrol devices to place in their own cars overnight. On-duty officers were notified when the devices were stolen, and the thieves were arrested. Residents are delighted that police now have an effective tool to fight back.
"We took on this problem together," said Johns. "It doesn't get much more community-based than that."
Community outreach
In addition to helping police catch thieves, bait technology can also help cops educate citizens about preventing these crimes by reminding them to protect their belongings.
Lookout, a cybersecurity company focused on mobile devices, reports that 1 in 10 smartphone owners have been victims of phone theft. More than half of these phone-theft victims accidentally left their phone behind in a public setting where it was later snatched up by a thief.
Spurred by a growing number of cellphone thefts, the Charlotte-Mecklenburg (N.C.) Police Department launched a social media campaign in 2015 aimed at reducing these crimes and encouraging citizens to keep an eye on their belongings.
An important component of the program is a Good Samaritan program that rewards citizens who find and turn in a bait device. Undercover officers place electronic bait products supplied by Assisted Patrol in areas where thefts are consistently being reported. Thieves are tracked and arrested, and Good Samaritans are rewarded with gift cards from local merchants.
CMPD arrested four suspects during one such bait phone operation over a single weekend in October 2015, and at least one person was rewarded for turning in a phone. CMPD reports that phone thefts in its targeted neighborhood have decreased by 10 percent since they launched the program earlier in the year.
"The Assisted Patrol bait devices have been a great asset in reducing these thefts," said Lt. Bret Balamucki, CMPD.
Request information from Assisted Patrol
Thank You!