PRESS RELEASE
New at IABTI: Custom Smartphone App for Bomb Squad Response
---
New "Instant Notification System" App for Bomb Squad Response and Investigation Now Available for Free Download
App streamlines IED response communication among bomb technicians and improves access to incident information for investigations.
Randolph, Vermont – The TSWG IED Instant Notification App (INS) is now available free to all Unites States bomb technicians. The App designed by the Force Protection product group of Applied Research Associates, was unveiled during the April gathering of the National Bomb Squad Advisory Board (NBSCAB), as well as to representatives from the ATF, FBI, DHS, DoD, and the Technical Support Working Group (TSWG). The App will also be on display at the International Association of Bomb Technicians and Investigators (IABTI) Training Conference and Expo June 10-14 in Dallas, Texas.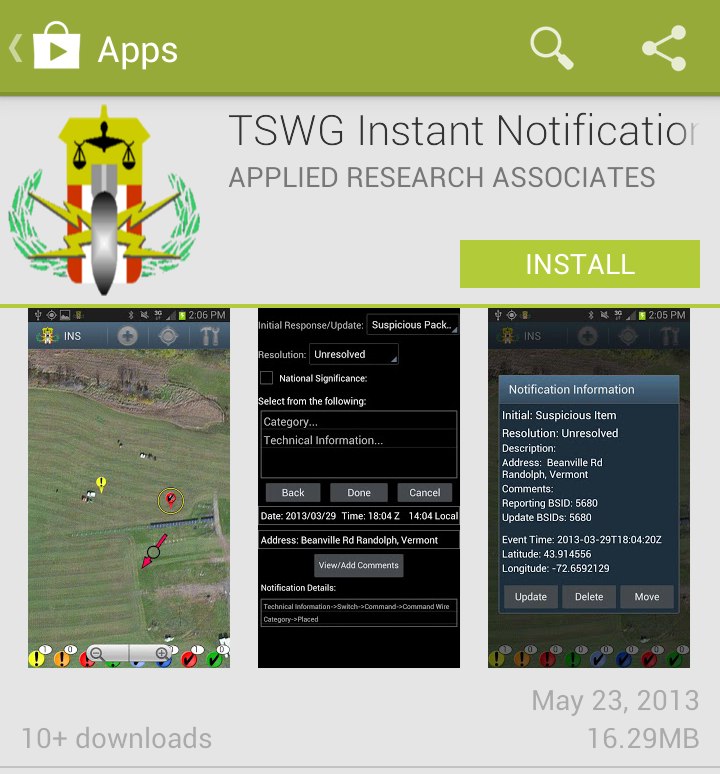 The INS App provides a way for bomb technicians responding to a suspect device or vehicle to share relevant information with fellow bomb squads while en-route or at the incident site. Information can be updated with a few clicks on a smartphone dropdown menu upon resolution of the incident or during ongoing investigations. The launch of this App represents the first time in the history of U.S. bomb disposal that bomb technicians have been able to share threat, incident, and device information instantaneously.

"Enabling consistent communication is a challenge that our bomb squads face daily." said Dr. Ed Bundy, Program Manager for Improvised Device Defeat at the Technical Support Working Group. "The INS App provides bomb technicians the ability to quickly and efficiently share information while remaining focused on their real mission, which is dealing with the device and returning the scene to normalcy. Rather than having to answer their phone in the middle of an incident to field questions, the App makes their smartphone work for them, pushing out relevant information to those who really need it. The day will soon be over where bomb technicians on the East Coast only find out about an incident on the West Coast days later, and only because it made the nightly news."

There are currently 467 active bomb squads in the United States. TSWG has licensed the INS App for download by every certified Public Safety Bomb Technician and NBSCAB account user. The App is now available for download on the Google Play store, and will be available for download on the iPhone in June. The App allows users to define in what geographic area they receive alerts, over what period of time, with what other squads they want to collaborate (mutual aid with other agencies), and what additional information (event category, event location, instant messaging notes, etc.) they wish to share. INS supports not only the teams directly involved in a response by providing a consistent electronic record of incidents and events, but also notifies the Bomb Arson Tracking System (BATS) database, making this information more readily available to investigators nationwide.

"As more smartphones make their way into the hands of our first responders, we're focused on delivering technology that streamlines processes to save time and lives," said Matthew Fordham, ARA Unmanned Systems and Security Products Group Leader. "Bomb technicians nationwide can now download and use the INS App to improve their fast paced inter-team communication and ongoing bomb squad community sharing of information."
More information about the release and background of the INS App is available at http://www.araforcepro.com.

ARA Force Protection is the leader in providing fixed, mobile, and aerial perimeter and situational awareness solutions for military, first responder, critical personnel, commercial assets and property. The company serves multiple branches of the U.S. military and coalition forces, first responder police, fire, SWAT and bomb squads as well as security services at a variety of critical infrastructure locations.
Since 1995, ARA Force Protection has delivered leading-edge security and reconnaissance products and services to military and civilian customers worldwide. Their products and systems scale from providing mobile high-value target protection to large scale facility intrusion detection. Many are available through the GSA schedule.

ARA Force Protection products are developed by Applied Research Associates (ARA), headquartered in Albuquerque, NM. Founded in 1979, ARA is an employee-owned scientific research and engineering company dedicated to solving the most critical national security problems.
 
More info:
http://www.araforcepro.com/new-at-iabti-custom-smartphone-app-for-bomb-squad-response/