PRESS RELEASE
New RuggON VIKING Mobile Data Terminal Brings Optimal Performance to Fleet Management
---
As the most powerful 7-inch rugged mobile data terminal available on the market today, the compact
VIKING is ready for the future of fleet management

Taipei, Taiwan - RuggON Corporation, a leading provider of rugged mobile computing
solutions, has announced VIKING, its next-generation Android-based vehicle-mount mobile data terminal.
The compact 7‐inch VIKING is designed to bring class-leading performance, comprehensive connectivity,
industry-specific functionality and modern applications to a wide range of fleet and transportation
deployments.

Class-leading Performance
As digitization and automation continue to transform the fleet management industry, high-performance
vehicle-based computing devices will play a pivotal role. The VIKING, running Android 9 with Google
Mobile Services on a fast, state-of-the-art Qualcomm Snapdragon 660 octa-core processor, brings
unparalleled system performance in a reliable and productive daily workhorse that fits anywhere.

Designed for Fleets
Built to the highest ruggedness standards, the compact VIKING is designed for use in vehicles ranging from
forklifts all the way up to large trucks and heavy-duty machinery. Featuring IP65 ingress protection and
having passed pertaining MIL-STD-810H testing procedures, the VIKING can operate in a wide -20⁰ C to
60⁰ C temperature range and withstand the harshest environments. With a wide 9-36V input voltage
range, smart power management, ISO7637-2 power protection and CANbus or SAE J1939 support, the
VIKING is a flexible tool for implementing a wealth of fleet and vehicle-based tasks such as diagnostics,
data collection, route and safety management, navigational tasks, and onboard operations recording.

Ready for Use on the Road and in the Field
With a high-bright 7-inch PCT touch-display, the VIKING remains viewable in bright sunlight, while the
auto-dimming function automatically adjusts to any change in ambient lighting condition. In addition to
the comprehensive onboard I/O with legacy support of its MT70x0 Series predecessors, the new VIKING
adds convenient reversible USB Type-C functionality with DisplayPort Alt mode support, enabling an extra
display where required.

Reliable, Comprehensive Connectivity
Staying reliably connected is crucially important to effective fleet management in today's digital and
data-driven transportation era. The VIKING comes with a range of integrated connectivity technologies
including 802.11ac Wi-Fi, Bluetooth 5.0, 4G LTE mobile broadband, GNSS with support for all the major
satellite systems, as well as NFC/RFID reading for identification and similar tasks.

For More Information: RuggON VIKING (https://www.ruggon.com/en/product/vehicle-mounted/MT7030)

About RuggON
With decades of ruggedized mobile computing experience and industry-leading technical expertise,
RuggON is dedicated to improving productivity in harsh working environments. We strive to meet and
exceed customer expectations with quick response to market demands and unwavering dedication to
innovation and long term success. We never stop searching for new and inventive ways to meet and
exceed the needs and demands of our customers. Our dedicated support and service teams aim to fulfill
customer needs in every market, combining relentless pursuit and passion for ground-breaking innovation
with extensive industry knowledge and Made in Taiwan quality and reliability.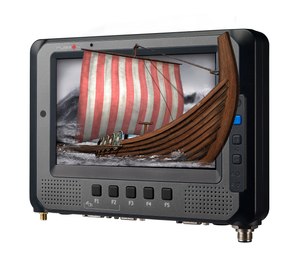 Request more info from RuggON Corporation
Thank You!