PRESS RELEASE
RuggON SOL PA501 is certified as SOTI MobiControl ready
---
RuggON rugged tablets are delivered with simpler and easier mobility management for professionals
working in all industries

Taipei, Taiwan —RuggON the leading manufacturer of rugged solutions announced that its Android
9-based and octa-core powered flagship rugged tablet SOL PA501 is now SOTI MobiControl certified.
Empowered by SOTI's enterprise mobility management (EMM) technology, the next-generation tablet is
ideally suited for 24/7 on-duty mobile workers, as they often need to deploy multiple devices
(handhelds/tablets/laptops) during their mission.

SOTI MobiControl is a powerful platform that enables IT admins to fast and securely deploy multiple
devices and manage apps and content with no need to worry about device downtime. Seeing this
advantage, RuggON decided to work with SOTI to provide its mobile workers with IP65-certified and
MobiControl-ready solutions that are qualified not only for harsh environments but also for easy, secured,
and centralized mobility management.

"Mobility management has become extremely critical when it comes to the smoothness of mission
execution." RuggON product manager H.-C. Lee said, "Together with SOTI MobiControl's Device Feature
Control function, SOL PA501 further ensures industrial field workers can securely transfer critical data such
as biometric characteristics or inventory lists to remote data centers at designated time or venue using the
tablet's complete communication technologies."

"SOTI, the world's most trusted provider of mobile and IoT device management solutions,
welcomes RuggON as a SOTI Solution Certified Partner. In conjunction with a network of high performing
hardware providers, ISV partners and resellers, customers across a wide range of sectors now have access
to business-critical mobility solutions that offer end-to-end mobility management
integration. RuggON delivers on SOTI's mission which ensures we are working with the best partners in
markets aligned with our local business strategy," said Mustafa Ebadi, Chief Operating Officer, SOTI."

About RuggON
RuggON specializes in robust rugged mobile solutions that are highly competitive, with exceptional
technical expertise. With a dedicated support and service team, the company provides great flexibility and
value to fulfill customer's specific needs in vertical markets. RuggONers relentless pursuit and passion for
ground-breaking innovation, coupled with extensive industry knowledge bring superb MIT (Made in Taiwan) quality and reliability.

About SOTI
SOTI is a proven leader at creating innovative solutions that reduce the cost and complexity of
business-critical mobility and the IoT. Thousands of companies around the world depend on SOTI to secure, manage and support their mobile operations. As a proven innovator with clear vision, laser focus, and a commitment to R&D, SOTI helps businesses take mobility to endless possibilities.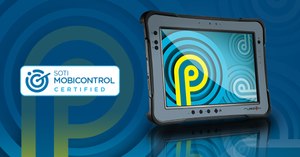 Request more info from RuggON Corporation
Thank You!