PRESS RELEASE
RuggON SOL PA501 rugged tablet now features Android 12 OS and GMS certification
---
Unit Delivers Exceptional Performance with Strong Processing Power for Maximum User Experience
LOS ANGELES - RuggON, an international maker of ruggedized mobile solutions, announced today that its 10" SOL PA501 Rugged Tablet is now available with Android 12 and GMS certified. Android 12 features a reimagined UI, new privacy features designed for user safety, and more seamless ways to immediately get down to business, whatever the environment a user has to work in. Its GMS certification is Google's stamp of approval that the unit meets all the specifications and requirements Google recommends.
"RuggON is proud that the SOL PA501 is the industry's forerunner of things to come in the rugged Android tablet market," stated Tom Wang, RuggON North America's CEO. "Adding the Android 12 operating system along with Google GMS certification to the unit's purpose-built adaptability further strengthens its ability to fit into virtually any role in any industry requiring an up-to-date, engineered, and built rugged mobile computing device."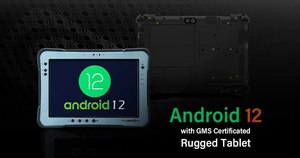 Extremely Rugged
The SOL PA501 is designed and built to withstand abuse. No matter how severe! It meets or surpasses IP65, MIL-STD-810G, and MIL-STD-461G (for controlling electromagnetic interference characteristics of subsystems and equipment used in military programs and applications) criteria. This tough design saves companies from spending money and experiencing downtime having devices repaired or replaced. Its GMS certification meeting stringent enterprise-focused requirements adds an extra level of quality assurance.
Increased Battery Life and Optimization
The SOL PA501 with Android 12 improves battery optimization to extend battery life, even reducing multiple battery swaps. Operators can complete missions more efficiently in shorter periods of time. It has long-lasting power for all-day undertakings including field operations, drone/UAV operators, and other applications requiring extended battery life.
Enhanced Privacy and Security Levels
Military members, public safety officials, EMS personnel, and workers in many other fields often handle confidential information. Thanks to Android 12, the RuggON SOL PA501 rugged tablet provides improved privacy settings and enhanced security features to protect sensitive data, effectively reducing the risk of data loss or hacking.
Unparalleled Connectivity
With a wide range of connectivity capabilities – including 802.11 ac with 2X2 MU-MIMO, Bluetooth 5.0, and 4G LTE – the PA501 with Android 12 guarantees seamless connectivity while enhancing Wi-Fi performance and faster network switching to reduce transmission latency. Among the chief beneficiaries are warehouse workers, as it allows them to return scanned product information to data centers instantly.
Customizable UI to Optimize Workflow
With Android 12, the SOL PA501 rugged tablet offers numerous user interface customization options. Such options simplify and optimize the workflow of agricultural and utility workers, law enforcement officers, and many others, as relevant information may be accessed quickly, completing tasks faster.
Availability
RuggON SOL PA501 rugged tablet is available through authorized distributors across the U.S. For details, call (213) 269 4168 or email: USA@ruggon.com.
About RuggON
With decades of ruggedized mobile solution expertise, RuggON strives to improve mobile productivity in harsh environments. A committed engineering team delivers devices of exceptional value and quality that improve user experience. The company is dedicated to understanding the various demands of different industries in order to provide application-oriented, tailored solutions that are efficient and effective. RuggON is committed to higher standards to achieve customer satisfaction. It prides itself on providing endless possibilities today to meet the demands of tomorrow. For more information, visit www.ruggon.com.

Request more info from RuggON Corporation
Thank You!