Enhancing law enforcement efficiency and security with Dell Rugged laptops
Discover the innovative features and advantages of Dell devices in this informative Q&A article
---
By Police1 Staff
In the demanding and unpredictable environments where law enforcement professionals operate, reliable and secure technology is crucial for effective decision-making and efficient workflows.
Dell Rugged systems equipped with Intel vPro processors can deliver significant benefits for security and cost savings. Find out more in this informative Q&A article.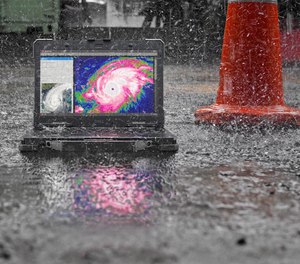 Q: How do Dell Rugged laptops integrate with Intel vPro processors aid law enforcement agencies?
A: These laptops provide a robust solution that ensures reliability, performance and enhanced security. They are specifically designed to withstand harsh conditions, such as extreme temperatures, vibrations, drops, and exposure to dust and moisture, thereby offering uninterrupted performance during crucial times.
Q: What are some benefits in terms of security and cost savings with Dell Rugged laptops?
A: The integration of Intel vPro processors in Dell Rugged laptops offers a range of security and cost-saving benefits. It provides a comprehensive solution for safeguarding sensitive data and reducing potential risks and also minimizes support costs related to device management and security through efficient remote management capabilities.
Q: How do these laptops impact IT support escalations and employee productivity?
A: The robustness and reliability of Dell Rugged laptops, coupled with Intel vPro processors, minimize IT support escalations, allowing officers to work without interruptions due to technical issues. This results in improved productivity and operational efficiency.
Q: How do Dell Rugged laptops reduce device patching and upgrades?
A: The integration of Intel vPro processors enables streamlined and efficient patch management and device upgrades. Law enforcement agencies can save time and resources by remotely deploying updates and patches to multiple laptops simultaneously, ensuring all devices are up-to-date and secure.
Q: How do Dell Rugged laptops affect device management resource requirements?
A: The Intel vPro platform simplifies device management through centralized control and automation capabilities. IT administrators can remotely manage and monitor Dell Rugged laptops, reducing the need for additional manpower and minimizing device downtime.
Q: How do Dell Rugged laptops help in reducing third-party software and hardware costs?
A: These laptops offer comprehensive security features, reducing the reliance on additional third-party security software and hardware. This not only saves costs but also simplifies the security infrastructure for law enforcement agencies.
Q: What measures do Dell Rugged laptops have for reduced security exposure and timely response to systemic risk events?
A: The Intel vPro platform enhances the security posture of Dell Rugged laptops by providing features like hardware-based identity protection, secure boot, and remote lockdown. These measures mitigate security risks and enable law enforcement agencies to respond promptly to potential threats or systemic risk events.
Q: What impact do Dell Rugged laptops have on the employee experience?
A: The reliability and performance of these laptops, combined with the advanced capabilities of Intel vPro processors, result in an enhanced employee experience. Officers can rely on their devices to operate seamlessly, improving job satisfaction and allowing them to focus on critical tasks at hand.
In conclusion, equipped with Intel vPro processors, Dell Rugged laptops offer law enforcement agencies a reliable, secure and cost-effective solution for their demanding operational environments. Their rugged design ensures durability, while the Intel vPro platform enhances security, simplifies device management and reduces support costs. Learn more here.
Police1 is using generative AI to create some content that is edited and fact-checked by our editors. 

Request information from Dell
Thank You!