New Dell Latitude Rugged Extreme: Work without boundaries
The Latitude 7230 Rugged Extreme Tablet delivers dependability without compromise, even in the toughest environments.
---
Sponsored by Dell Technologies
By Tom Tobul
From factories to ambulances, deserts to the Arctic, professionals working in harsh edge environments turn to Dell Latitude Rugged for peace of mind. The new Latitude 7230 Rugged Extreme Tablet is no exception – it's the latest in a line of trusted devices for workers in some of today's most challenging environments. This premium tablet is built for outstanding field performance and productivity, delivering critical reliability, all while withstanding extreme surroundings.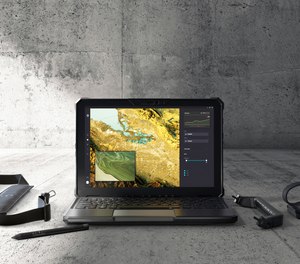 Next-level performance, no matter the environment
Operating in the field or on the factory floor should not mean sacrificing performance or connectivity. The lightest [1] and most powerful [2] 12" fully-rugged tablet on the market, the 7230 Rugged Extreme comes with 12th Gen Intel Core up to i7 processors and integrated Iris Xe graphics, providing powerful performance on the go.
Combine that with new Wi-Fi 6E capability and dual broadband support, and users can see an improvement in speed while reducing the tablet's energy consumption at the same time. For first responders, the 7230 Rugged Extreme answers the call, with FirstNet Ready [4] powering priority access to the critical information they need in emergencies, housed within the FirstNet network.
World-class upgrades to meet the exacting needs of rugged users
Those we depend on need equipment they can rely on, so the 7230 Rugged Extreme doesn't stop at performance. It also features improved battery life, increased display size and the durability Rugged tablets are known for:
Regardless of your environment, the tablet now provides up to 20 hours battery life, [5] with dual hot-swap batteries for continuous operation of the device. This is critical for shift work in manufacturing, the military, for first responders and the list goes on.
A true 16:10 aspect ratio display now provides 13% more active screen area than previous generations, giving the 7230 Rugged Extreme the largest [6] screen area in a 12" fully rugged tablet. But that doesn't mean much if you can't see the content featured on the screen. Critical data can be viewed in direct sunlight, now with up to 1200 nits of brightness. Plus, glove-touch capability allows optimal screen interactivity.
And we can't talk about Dell Rugged devices without talking about durability. The 7230 Rugged Extreme is military-grade, meaning it is drop-tested from up to four feet and temperature-tested from -20F to 145F to withstand the most strenuous circumstances. It's IP-65 rated for exceptional protection against dust, dirt and water ingress, and with optional hazardous location certification, even highly dangerous settings are not an issue.
If this doesn't leave our Rugged users impressed with the new tablet, let's take a minute to talk security as well – because let's face it, when working in these harsh environments, users need to be prepared for the unexpected while knowing their devices are as secure as possible. The 7230 Rugged Extreme comes pre-installed with Dell's TPM 2.0 ControlVault, a hardware-based advanced authentication tool that helps users secure and control data with integrated encryption. Additional security options are also available to help protect highly sensitive or confidential information, including a contacted or contactless smartcard reader, Infrared Camera for Microsoft Windows Hello-based facial recognition and a touch fingerprint reader.
Versatility is key in unpredictable environments. That's why we designed the tablet ports so they can be configured for simultaneous connection to Wi-Fi, GPS and WWAN – all while maintaining 5G performance for faster and efficient video streaming and file sharing. The 7230 Rugged Extreme can also be customized for a variety of industries as well as OEM solutions with the option to add a barcode scanner, HDMI or Fischer USB. A high-performing removable NVMe SSD (up to 2TB) [7] can be removed and swapped without any tools for even more flexibility to handle demanding field applications.
A new ecosystem of accessories makes the 7230 Rugged Extreme a fit, no matter the task
We know the tablet is only one piece of the puzzle when it comes to making products Rugged users depend on to perform their work smoothly. That's why the 7230 Rugged Extreme is available with both new and refreshed accessories that create a critical balance of mobility, ergonomics and durability.
Connecting directly through the tablet's dual locking latches, the new detachable keyboard allows a quick transition to a full keyboard experience. Alternatively, the active pen offers the flexibility and versatility that a fast-moving scenario requires. Taking productivity even further, upgraded attachments such as the shoulder strap, rotating hand strap with 360-degree swivel and adjustable rigid handle help ensure the tablet becomes a seamless extension of the worker and their needs, never a cumbersome device to juggle.
As part of the broadest portfolio at the edge, the 7230 Rugged Extreme Tablet will be available globally by the end of 2022, with pricing announced closer to shipping. For companies deploying rugged devices at scale, fleets of tablets can be seamlessly deployed, managed and secured over the cloud, with additional support through enterprise services such as next-business-day on-site support and predictive ProSupport tools.
References
1. Based on Dell internal analysis, comparing the starting weight of Latitude 7230 Rugged Extreme, with the starting weight of competitor 12" fully-rugged tablets, using published data available as of April 2022.
2. Based on Dell internal analysis of the combination of CPU storage, memory, graphics and Wi-Fi standard specs on fully-rugged tablets comparing the Dell Latitude 7230 Rugged Extreme Tablet to the Panasonic Toughbook 33 and Getac F110, using published data available as of April 2022.
3. Wi-Fi 6E compatible router required. Router requires a separate purchase. Wi-Fi 6E connectivity is only available in select countries. Check availability with your service provider.
4. Certification expected November 2022.
5. Based on Mobile Mark 14 benchmark data.
6. Based on Dell internal analysis, comparing the screen size and aspect-ratio of the Dell Latitude 7230 Rugged Extreme, with competitor 12" fully-rugged tablets, using published data available in April 2022.
7. Available February 2023. Initially shipping with up to 1 TB.

Request information from Dell
Thank You!