PRESS RELEASE
Durabook trademarks Coolfinity for its proprietary fanless cooling design of rugged laptops and tablets
---
Integrated passive thermal solution quietly handles powerful processors and risky environments without losing its cool
FREMONT, Calif. – Durabook, an innovator in purpose-built, rugged computing solutions, today announced Coolfinity™ as a trademark of its proprietary integrated passive cooling design for its rugged laptops and tablets. Durabook is the only rugged device manufacturer to offer full-featured, high-performance devices with a fanless thermal solution, equipped with the latest Microsoft Windows 11 Pro operating system, allowing the platform to operate with unprecedented reliability and levels of safety in handling powerful Intel® Core™ processors.    
The cool running of the Durabook fanless thermal solution offers higher performance while decreasing downtime and repairs that negatively impact productivity. These factors point to a greater return on investment over time. Currently, Durabook's Coolfinity fanless thermal solution is available in the Durabook R8 rugged tablet, U11 rugged tablet, and Z14I rugged laptop.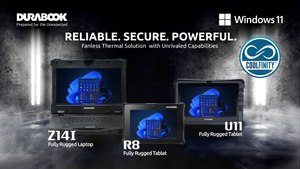 It is normal for computers to heat up when running performance-intensive tasks, or while in use out in the blazing sun and heat, and fans are the standard cooling system in conventional computer hardware. But they are also one of the biggest causes of device failure because, along with cooler air, fans also suck in dust, dirt, moisture, vapors, and other contaminants and can become clogged or worn out. Moisture corrodes electrical components and debris builds up, over time limiting the movement of mechanical parts, which can cause the fan to malfunction. Overheating affects computer performance and can lead to failure of the device. In a chemical manufacturing or oil and gas plant, however, computer failure and data loss could be the least of the risks of an overly hot computer.
Durabook's fanless Coolfinity devices operate safely in industries where standard computers cannot. This includes environments with more dust, fine particle contaminants, and potentially explosive gasses, such as oil refineries, gas plants, mills, mines, and manufacturing environments for chemicals and food. Fans are also noisy, which makes Durabook's Coolfinity products quiet, integrated passive cooling system a strong fit for public safety, military and defense deployments.
The Durabook R8 rugged tablet with Coolfinity fanless design offers boundless customization capability and is purpose-built to manage the heaviest workloads while meeting the demands of the harshest environments. Designed to fit in the palm of the hand for ultimate mobility, the R8 fully rugged tablet is made with durability in mind. Certified with MIL-STD-810H to withstand drops of up to 6 feet, the device also boasts IP66 and ANSI/UL C1D2 certification.
The Durabook U11 rugged tablet with Coolfinity fanless design packs productivity features in its extremely compact and rugged exterior, including a detachable keyboard and generous space for further expansion. Designed as the only 11.6" fanless tablet in its class, it provides an extra level of security and reliability for today's mobile workforce.
The Durabook Z14I rugged laptop with Coolfinity fanless design can handle data-intensive tasks at speed and, including its fanless design, is built to withstand even the harshest of environments. Its IP65 rating protects against dust and water ingress, MIL-STD 810H certification and resistance up to six feet drop making the Z14I more rugged than other comparable devices on the market. The device has also been tested for explosive atmosphere, solar radiation, salt fog, and fungus resistance, which goes beyond testing standards compared to other rugged devices in its class.
"The Durabook Coolfinity touchstone is to design, manufacture, test, and service all our products to the highest criterion of quality and reliability," said Sasha Wang, president, Durabook Americas. "At the same time, we question the standards of rugged mobile computing solutions, seeking ways to improve on the standard through innovation that makes our products higher functioning, safer, and more broadly deployable."
Connect with Durabook Americas via social media on LinkedIn, Twitter, Facebook, and YouTube.
About Durabook Americas
Durabook Americas is an innovator in purpose-built, rugged computing solutions. The company leverages the field experience of client-partners throughout the U.S Armed Forces, public safety agencies and field service organizations to deliver reliable, cost-effective, and customizable solutions. Durabook Americas, Inc. is headquartered in Fremont, California, and is the North American subsidiary of Twinhead International Corporation, a leading manufacturer and customizer of rugged computing solutions for more than 30 years, including the globally acclaimed Durabook brand. For more information on Durabook Americas, Inc., visit the website.

Request more info from Durabook Americas, Inc
Thank You!