PRESS RELEASE
Gamber-Johnson announces release of Zebra ET40/45 2-in-1 attachable keyboard
---
STEVENS POINT, Wisc. - With the new Gamber-Johnson 2 in 1 Attachable Keyboard , users can combine the keyboard with the Zebra ET40/45 10" Enterprise tablet for the perfect mobile solution. 
The attachable keyboard is designed for those who conduct business in the field, or on the road and want to leverage the efficiency of the ET40/45 with the convenience of a laptop keyboard. The Gamber-Johnson 2 in 1 Attachable Keyboard is purpose-built for workers in industries such as manufacturing, transportation, field services and retail. 
The new 2 in 1 Attachable Keyboard is easy to use in the field; slip the bottom of the ET40/45 tablet into the case and snap the top of the case over the tablet. All the Zebra ET40/45 control buttons including the camera and scanner are accessible when the tablet is docked onto the keyboard POGO pins.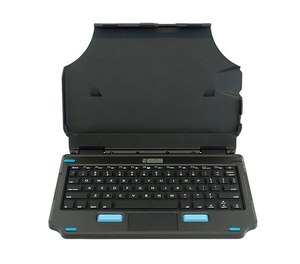 The new Attachable Keyboard features an integrated center touchpad with right and left mouse buttons and 12 function keys which will make the usability of this keyboard very familiar to most users. The keyboard is designed with silicone rubber keys with white lettering and a rugged polycarbonate case for lasting performance. Use the USB-A port to attach a mouse, a flash drive or other peripherals.
The 2 in 1 Attachable Keyboard features a POGO docking connector linking the tablet to the keyboard. The tablet's USB-C port is accessible for charging and offers the option to charge through the keyboard without having to remove the tablet. It also features a friction hinge and screen footrest to help position the computer and keyboard at a comfortable tabletop viewing angle. Use the hard carry handle to conveniently carry your tablet or attach a shoulder strap to the carry handle for enhanced portability.
Contact a sales representative or call 1.800.456.6868 for more information.

Request more info from Gamber-Johnson
Thank You!