5 ways CAD in the cloud can reduce costs, increase efficiency
Agencies can dispatch the right resources and provide greater situational awareness while saving money and taking advantage of the latest software and security capabilities
---
Sponsored by Motorola Solutions
By Rachel Zoch, Police1 BrandFocus Staff
Keeping up with advances in technology poses a significant burden for public safety agencies, especially when it comes to striking a balance between tight budgets and achieving the necessary functionality.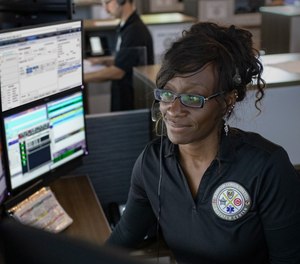 Cloud computing has been an established delivery model for many years and has benefits for agencies of all sizes. A cloud-based CAD solution offers constant updates and support. Additionally, cloud deployments provide agencies with a more secure option as cybersecurity attacks on PSAPs are on the rise.
Here are five ways a cloud-based solution like PremierOne Cloud CAD from Motorola Solutions can benefit your agency:
1. CONTROL COSTS
Agencies that opt for a cloud-based solution can benefit from a more predictable cost model that simplifies the traditional paradigm of capital expenditures + ongoing maintenance costs + IT staffing + cybersecurity.
"The lists of costs in the budget is extensive, and when we move computer-aided dispatch to software as a service, which is enabled by the cloud, we're able to basically compress those things into one budget line item," said Karen Carlson, portfolio product manager for Motorola Solutions.
Shifting to an operational expenditure model allows your agency to pay a yearly subscription for technology, eliminating the need for capital investments to keep the technology current and freeing up IT personnel to focus on day-to-day operations and support.
With PremierOne Cloud CAD, Motorola Solutions manages maintenance, updates and support tasks. Since this solution is based upon the total number of users, it also brings more sophisticated CAD capabilities within reach of smaller agencies that might lack the personnel or budget to support these operations on site.
2. OFFLOAD OPERATIONS
A cloud approach also allows your agency to realign its resources with other priorities. Because the vendor bears the responsibility for maintaining hardware, software and performance, your agency is no longer tasked with regular updates or security. This enables easy deployment, constant updates and improved availability.
"When you move into the cloud, it's a much lower demand on the IT department," said Carlson. Our development teams are able to seamlessly push out new, innovative functionality to our customers so they're able to take advantage of new features and functions faster than they ever possibly could have ever dreamed of with their legacy solutions."
CAD in the cloud also means that dispatchers can access the system from anywhere – which has become particularly important since the onset of COVID-19 and work-from-home orders across the country.
An agency with a traditional on-premise deployment must rely on its IT resources to figure out how to get employees connected remotely. But with the cloud, that's all built in and your agency can easily increase capacity as needed, without any additional IT resources or investment.
3. REDUCE RISK
Shifting the operational burden to a partner also means shifting the security risk and responsibility. Choosing a cloud CAD reduces your agency's need to protect a physical location and instead enables you to offload data security costs to cybersecurity experts.
With PremierOne Cloud CAD from Motorola Solutions, redundant and geographically isolated data centers and network infrastructure ensure continuity of operations. This approach protects your agency from the increasing risk of cyberattacks by securing data, applications and systems with advanced security tools, experts and operations.
"Between Motorola and our cloud partner (Microsoft Azure), significant investment goes into security," said Josh Smith, director of CAD product management for Motorola Solutions. "An individual agency simply can't match that level of expertise and investment, and they get a significantly more secure system without having to handle the burden in their IT department."
4. BREAK DOWN DATA SILOS
Separate systems that can't communicate has long been a problem when it comes to making good use of data, and the cloud can help break down those information silos to provide dispatchers with a more complete picture. As more operations and applications across public safety move to the cloud, that shared platform facilitates and simplifies integration and interoperability.
Building on decades of experience delivering successful CAD on-premise deployments, Motorola Solutions has partnered with Microsoft Azure Government cloud to augment existing PSAP and IT operations.
"We know the CAD system isn't the only software or tool that is being utilized, so integration with third parties, as well as integration across the Motorola platform, is extremely important," said Smith.
PremierOne Cloud CAD optimizes integration across applications and platforms. Through collaboration with third-party systems, such as Priority Dispatch, Deccan, RapidSOS and others, PremierOne enables dispatch to provide responders with much more prioritized information.
5. INCREASE RESPONDER SAFETY
Because the cloud provides a common platform where data from different sources can be managed and analyzed, a cloud CAD helps prioritize all of these different data sources to make sure that users get the most important data first.
And because the system provides access to previous incidents and current information relating to the location, situation and caller without disrupting their natural workflow, dispatchers can handle calls faster, allocate resources more efficiently, provide greater situational awareness to responders in the field and coordinate seamlessly with other departments and agencies.
This supports improved dispatch decision-making and increased responder awareness and safety. For example, says Carlson, you don't want a premise hazard alert that says the subject at this residence is known to be violent toward law enforcement to be No. 12 in the list of the data that's being presented to your dispatcher or to your field responder.
"By having the data in that common platform that the cloud enables, it allows us to get that information to the officer faster and ultimately makes them more alert as to what's going on in their surroundings," she said.
For more information about PremierOne Cloud CAD, visit Motorola Solutions.
Read Next: The benefits of cloud-based technology for 911 command centers

Request information from Motorola Solutions
Thank You!