How to bring an LPR program to life in your community
Start by assessing your needs and available infrastructure, then look for a vehicle recognition solution that can grow to meet new goals and challenges as they emerge
---
Sponsored by Rekor Systems
By Rachel Zoch for Police1 BrandFocus
If you are thinking about adopting license plate or vehicle recognition technology in your jurisdiction, it's important to first decide what you want to accomplish with these tools. Then consider the needs of your agency and your community and look for a solution that can not only meet your current needs but grow as those needs change over time.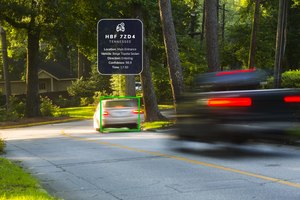 Police1 asked two LPR experts from Rekor Systems, a provider of AI-powered license plate and vehicle recognition data, what agency leaders need to know to successfully launch an LPR program. Here are five key considerations for bringing an LPR program to life in your community.
1. Determine what you want to accomplish
Choosing the technology that you want and the right vendor comes down to what you're trying to accomplish, says David Tindall, Rekor's vice president of implementation and customer support.
"Try to figure out exactly what problem you are trying to find a solution for without limiting the solution that you purchase to be that one and only mission," he said.
If you're trying to geofence your city and catch stolen or other wanted vehicles, a basic license plate recognition system will do the trick. But a broader and more comprehensive vehicle recognition system can provide more information, such as the vehicle make, model and color, along with unique characteristics including stickers, roof racks or damage. This additional information, combined with captured video footage of the vehicle, can prove invaluable during investigations. Most witnesses won't remember a vehicle model or plate but will remember that it they saw a white SUV with a roof rack.
"To get into the game, you have to read a license plate, but you'd like to capture more information than the license plate – the make, model, color – because law enforcement can use those metrics to compare and validate the hit on the NCIC list," said Chris Kadoch, chief technical officer for Rekor. "If you read a license plate, you'd like to be able to know that it was also a white F-150 pickup truck, and the officer can look at that and compare them."
Aside from investigating crimes, the technology can also provide critical data about traffic flows, including total throughput, vehicle volume by classification and more, both for a given period and over time, for better informed staffing choices and infrastructure planning in the community.
"Being able to adjust your staffing is a huge benefit of knowing what your traffic flow is like," said Tindall. "You can also talk to the public works department, maybe adjust the timing of your traffic signals."
2. Determine what hardware you need and where
Once you settle on your agency's goals and the types and locations of the installations you want, it's time to look at what hardware you'll need to accomplish those, and where to place it. Perhaps a stretch of road in your jurisdiction is notorious for crashes or street racing, or you want to set up a geofence to monitor ingress and egress to investigate burglaries and other crimes. These are all good candidates for camera placement.
LPR systems can include both fixed and mobile cameras, and Kadoch says there four types of cameras to consider:
Mounted systems are installed to stationary infrastructure (such as a utility pole) to monitor a particular area for geofences, vehicle counts, traffic monitoring, etc.
Vehicle camera systems are installed in a vehicle. These in-vehicle mobile LPR cameras can be deployed anywhere and anytime they are needed, including unmarked vehicles for discrete operations.
Portable trailers can be deployed for temporary coverage of a hotspot, such as an event venue, and they offer many of the same benefits as a mounted system but in a portable solution.
Mobile LPR App is the newest option available to officers, putting LPR literally into the hands of officers themselves via smartphone, whether they're patrolling by vehicle, bicycle or on foot.
"A mountable system, a mobile system and even a handheld system all have their own positives and negatives," said Tindall. "A mobile system is great because you can take it just about anywhere, but the pro of a mounted system is that it never blinks. It's going to catch every single vehicle that drives in a specific area."
Another important aspect to consider is how many cameras are needed to cover a specific intersection or roadway of interest. Look for a system that provides maximum coverage to get the most bang for your buck, and to minimize upfront costs and maintenance later.
"You want to make sure that you have a system that covers multiple lanes through a single device," said Kadoch. "When you're comparing different systems, a lot of times systems will be restricted to covering one lane. Instead of putting up four camera systems, you'd like to be able to have one system and to cover as much physical territory as you can."
3. Don't go it alone when it comes to installation
Look for a provider who will help your agency assess existing infrastructure, such as light poles and traffic arms, that could be used to mount the LPR hardware. More importantly, they should provide assistance with obtaining permits from the necessary authorities before installing anything.
"The biggest challenge is usually permission in the rights of way, because you could have multiple people or organizations that have jurisdiction over that roadway, anywhere from the city or the county to the state and departments of transportation," said Tindall, "and those entities all have different rules and requirements."
That's why it's important to have a camera system that can cover multiple lanes and look at extreme angles, adds Kadoch, because sometimes the ideal placement for law enforcement is prohibited by the entity governing the area. This is where a vendor with experience navigating these challenges can make a big difference. For example, Rekor helped one of its largest customers deploy Rekor One Public Safety to cover a major road using city-owned bus shelters as a platform to mount the infrastructure when the light poles and traffic arms were not available.
"We actually put solar panels on top of bus shelters and cameras on the roofs, and we were able to then read three lanes of traffic from the bus shelters in that particular town," said Tindall. "So just because a light pole, telephone pole, utility pole or mast arm is unavailable doesn't mean we have to give up – it just means that sometimes we have to find a creative solution in order to meet the customer's needs."
4. Determine your policies for enforcement, data retention and data sharing
Putting up the cameras is only the first step. How is your agency going to use the data collected by the LPR system? This is important not only in terms of data retention and sharing the information with other agencies, but you also need to choose the level of enforcement. Which infractions will the system flag? This can include anything from felonies to misdemeanors or failure to keep up with vehicle insurance and inspections.
First choose what you want to enforce, says Kadoch, and then your agency can tailor its data retention policy to match applicable privacy regulations.
"A system should have the flexibility to vary the retention based on the severity of the infraction detected," he said. "Misdemeanors and felonies are different severities, so you would like to have different retention policies, maybe even down to the point of a vehicle that is not wanted doesn't even get retained on the system. I don't want my plate in there if I'm not breaking the law."
If your agency wants to share its vehicle data with neighboring departments or other jurisdictions, it's important to establish a policy for cooperation and a platform that supports secure data sharing. Kadoch describes two approaches:
Open data lake: All of the agencies in an area can choose to dump all of their vehicle data into a third-party system, like Rekor. This creates a simple sharing network for all the agencies but removes control from the originating agency, making it unsuitable for an agency with a strict data retention policy.
Federated sharing: This sets up relationships with neighboring agencies where the originating agency allows only simple searches and only by certain agencies (via MOU), thus maintaining control of their data.
How your agency approaches sharing LPR data will be determined by your retention policy. Some agencies already have MOUs in place with neighboring jurisdictions, and they share easily back and forth, says Tindall. Other agencies require more formalized processes where they actually have to draft the MOU. He has facilitated these arrangements for multiple Rekor customers, talking to other customers in the same state or region to ask if they will share their policy. A similar approach can also be used with other departments that would benefit from the de-identified data, such as vehicle counts or vehicle type reports provided by the system.
5. Explain the uses and benefits of LPR to your community
It's important to communicate to your community how your agency plans to use the vehicle recognition technology to serve the community and enhance public safety.
"Everybody can use vehicle recognition and roadway analytics in some form or fashion," said Tindall, "and that can run the gamut anywhere from, 'Hey, let's identify the bad guys, recover stolen vehicles or find missing persons,' all the way up to very detailed analytics about the roadway and what's happening within your community on those roadways."
In jurisdictions where police are dialing back "secondary offense" traffic stops for issues like an expired registration or uninsured motorist, the LPR system can be used as part of a contactless compliance program to enforce these regulations. This frees officers to focus on enforcement of more serious crimes, while still holding citizens accountable. Doing fewer roadway stops also improves officer safety and resource effectiveness. A contactless compliance program can be tailored to your jurisdiction's needs and paired with real-time alerts so officers can still respond to wanted vehicle identifications.
"I like to use the term 'force multiplier,'" said Tindall. "The Rekor One Public Safety technology can be used for enforcement purposes without having to engage a police officer."
Consider what vehicle recognition technology can help your agency accomplish, whether it's simple enforcement, collecting investigative leads or more advanced planning applications, then look for a solution that can grow as your mission evolves.
Visit Rekor Systems for more information.
Read Next: 5 ways to use LPR to proactively promote public safety

Request information from Rekor
Thank You!