Is your patrol in-car setup cluttered, distracting, and possibly preventing your airbags from saving your life?
Most police car-mounted components get in the way of airbag deployment zones and can endanger officers during serious collisions
---
Sponsored by Cyberkar Systems
By Sean Curtis for Police1 BrandFocus
In the old days, a "police package" vehicle meant having a souped-up engine, better brakes, and maybe even some speed-rated tires.  These days, the meaning of that phrase varies so widely, it's uncommon for officers to be on the same page of which upgrades to expect.  Why have things changed so much? Like almost everything else in our life, technology has made a huge difference. In fact, the number of technologies officers are required to handle on a daily basis has grown exponentially.  But more technology doesn't always translate into automatic improvements and officer adoption. Unfortunately, the problems associated with added tech have also created some bumps in the road for police. But thankfully, a company called Cyberkar Systems has created a product called Kommander that will solve in-car chaos.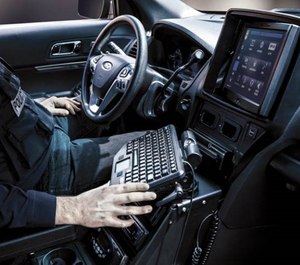 Does your in-car computer tech meet your expectations?
Patrol car technology has evolved since the days of radio and switches for lights and sirens.  Spotlights came along, more complex radios, radar, lidar, in-dash camera, body-worn cameras and then the big one—mobile data terminals or MDTs.  While these various devices greatly enable officers to complete their jobs, they also create some unexpected drawbacks.
First and foremost, they can become distractions for officers on the road.  Things like driving, responding, and contacting suspects can be high-risk situations that can ill-afford a sidetracked cop. Take a look at the numbers for example, the National Law Enforcement Officers Memorial Fund and the CDC estimate that motor vehicle-related accidents account for 37% of all line-of-duty deaths. In addition to this concern,  mapped-out systems of how all the new technologies could or should be implemented into a patrol car have often been overlooked.  This challenge inspired Cyberkar Systems to approach the idea of consolidating the growing technology in police cars in a way that ergonomically makes it safer for officers to use.  Their Kommander system addresses three major areas of concern: ergonomics, health, and safety.
Think of your car as a work environment on wheels: ergonomics matter
It may be difficult for some people to think of a car as a mobile work environment deserving of ergonomic considerations above and beyond a seat adjustment, but officers spend eight to twelve hours in their cars completing functions that can cause repetitive stress injuries. Studies completed with Quebec Provincial Police revealed officers have developed back and neck injuries from operating an MDT and other police equipment poorly set up police car.  This causes departmental losses in coverage as well as an additional use of sick time. 
Not only does the Kommander consolidate technologies, it centrally locates them in a touchscreen so officers are accessing data in an ergonomically sound fashion.  The screen, mounted in the dash, can swivel between the driving officer or passenger officer for optimal comfort and viewing.  In addition, the Kommander keyboard can be moved or detached for more ergonomic use depending on which officer is utilizing the MDT.
No tech should compromise your health
Kommander promotes officer health by not forcing them to crouch over or access the technology repeatedly in a fashion that causes bodily strain.  By simply co-locating many of the controls and technology, it limits the range of motion an officer needs regularly, and they can access them in an upright fashion.
Another huge component Kommander uses to boost officer safety is relocating technology to a height that allows them to still use their peripheral vision to maintain situational awareness.  An officer on a car stop would not have to look down at an MDT or other equipment mounted to a bracket on the console.  Rather, their line of sight is toward the dash where they can still quickly see movement stemming from in or around the vehicle.  The potential to see trouble coming is potentially life-saving.
Don't wait until a collision changes everything
Another concern that is commonly overlooked by the technology creep in patrol cars is the safety of the occupants during a collision.  Most vehicle manufacturers that sell police package vehicles offer safety warning disclaimers in their police upfit modifier guides.  Essentially, they warn that if anyone mounts something within any of the airbag deployment zones, they will not be held liable.  Kommander solves this problem by centrally locating the touchscreen in the dashboard of police package vehicles.  Generally, the installed  MDT mount and other equipment often invade the passenger seat area and airbag deployment zones.
Every year a significant number of officers are seriously injured or killed in car crashes on duty.  By utilizing Kommander, police agencies retain the benefits of their patrol car technology without increasing risk to the officers operating those vehicles.  Simply allowing the airbags to function as designed is risk mitigation.
How does the Kommander fit right in?
Cyberkar has spent years in development making sure their products solve a number of issues confronting officers every shift.  With an integrative approach, the company is melding all the technology currently being used in patrol cars to decrease distracted driving, improve officer ergonomics, increase situational awareness, and minimize safety concerns while taming technology in a way that can accommodate one or two-officer patrol vehicles.
Get more info from Cyberkar Systems

Request information from Kommander™ by Cyberkar® Systems
Thank You!