How to buy human resources software (eBook)
Download this Police1 human resources software buying guide to learn key steps for product selection, purchasing and implementation
---
To download your free copy of "How to buy human resources software (eBook)" Buying Guide from Police1, fill out this form.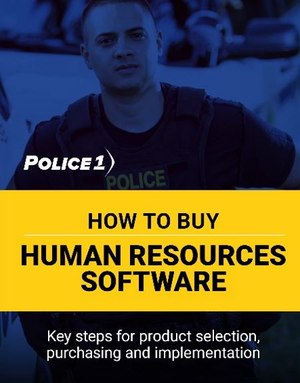 Not so long ago, human resources (HR) was called "personnel," and everyone's career progress and performance were documented in a paper file folder. Human resources software has digitized that function, and has added in attendance and pay records, achievements in training and other functions pertinent to employee management.
There are software packages designed to address all HR areas separately, but the trend is to combine these works under one multi-functional umbrella to reduce costs and duplicative data entry. This consolidation also makes HR information available to every employee and supervisor on demand, and many tasks that required a manager's intervention can now be completed by the individual employee. This provides supervisors and administrators with more time to lead and encourage desirable behaviors.
Human resources software should make your employees more effective, better informed, and positively engaged in their jobs. The benefits of the software should be far greater than the shortcomings and workload it presents. This Police1 guide addresses considerations in the acquisition of human resources software.
Included in this guide: 
Key considerations before purchasing
Top implementation considerations
Questions to ask vendors
To download your free copy of the "How to buy human resources software" Buying Guide from Police1 fill out this form.