Digital Edition: How to harness the power of AI in law enforcement
Download a free Police1 guide to Artificial Intelligence technology procurement and deployment
---
Artificial Intelligence or AI impacts all of us on a daily basis. Whether used as a security measure on your smartphone or to catalog thousands of digital photos for easy reference, AI-driven technology makes our lives easier and more efficient.
AI is also transforming policing. At this current moment in time, it has never been more important for police leaders to maintain transparency by educating elected officials, privacy advocates, the media and civilians on how AI can improve community safety and officer efficiency.
With increased calls for legislation around the deployment of AI by law enforcement, our experts all agree that it is key to engage the public early and often in the planning and procurement process so they are well informed as to how the technology will be put to use.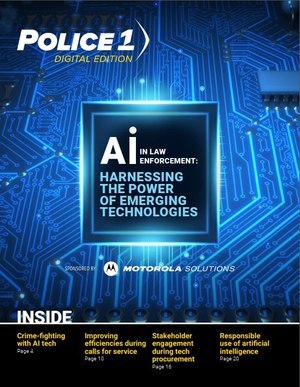 This digital edition, sponsored by Motorola Solutions, reviews how AI aids police operations and investigations, including:
Seven current LE applications for AI and machine learning;
Applications of AI tech during a typical police day;
How police leaders can educate stakeholders as to how law enforcement is using AI technologies.
To download your free copy of the "AI in Law Enforcement: Harnessing the Power of Emerging Technologies" Digital Edition from Police1, fill out the form below. 
Access this free guide on AI technology from Police1