PRESS RELEASE
IDOL 23.2―Working across the unstructured/structured data boundary
---
When: Apr 13 2023, 10:00am CDT, Duration: 60 mins
Presented by: David Humphrey, WW Dir Product Management & CTA, IDOL & Laurence O'Brien FRSA, Global Product Marketing Mgr, OpenText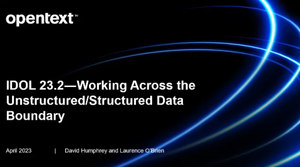 About this talk: Organizations are able to cope with the exponential growth in human data―text, audio, video and images using OpenText IDOL, with 100% coverage of all the data they own across 150+ repositories and 1500+ file types, providing a 360-degree view of their data.
Plus, it's massively scalable, providing real-time insight safely and securely.
In this session, you'll learn how IDOL:
Makes the most of data scattered across the enterprise. Finds the value in intellectual property as well as compliance risks associated with sensitive and/or inappropriate data.
Mines data from any type of unstructured repository. Searches between hundreds of repositories at once. Extracts and enriches data across many more files and data types as a one-stop shop for inquiry and discovery.
Quickly finds sensitive, classified or inappropriate data sources no matter where or what they are. Actioning on the resulting data for regulatory or security reasons.
See how you can use IDOL's AI-powered Analytics to now gain valuable insight by exploiting the navigational benefits of the structured data world while leveraging IDOL's 100% coverage of the underlying unstructured data. Enabling you to protect your organization by avoiding any potential dark data traps and data discoverability loss that can occur when organizations cannot search across data types.
Request more info from OpenText
Thank You!