PRESS RELEASE
Webinar: AI ignites a new era of data privacy
---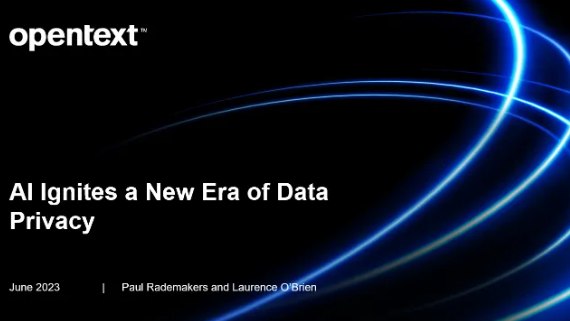 June 22, 2023 | 8:00 a.m. PDT | 5:00 p.m. CEST
Presenter: Paul Rademakers, IDOL Sales Specialist, OpenText
Moderator: Laurence O'Brien FRSA, Global Product Marketing Manager, OpenText
For most industries, tackling data privacy requirements—including those beyond governmental compliance—is nothing new. But now AI is here and it's ushering in a whole new era of data privacy potential.
Join us for an illuminating discussion of how OpenText™ IDOL™ uses AI to access privacy-related items, redact data, and provide compliance guarantees to meet local laws. The way your company handles privacy demonstrates the level of trust you have for your customers and also how fairly and respectfully you treat other companies. 
Here are some guidelines: 
Marketing information should all be anonymized.
Banking account information should be treated with care to respect the privacy of the account owner. 
Business communications should respect the privacy of individuals named in transactions while the data is in transit.
The privacy of families and organization members should be guaranteed to ensure that freedom of speech and data privacy is secured.
Find out how OpenText IDOL uses AI to make all these things possible.
Request more info from OpenText
Thank You!