PRESS RELEASE
Agisent Technologies Releases RMS ONE for small law enforcement agencies
---
30-Day Free Trial, Part of the Company's 'No Agency Left Behind' Initiative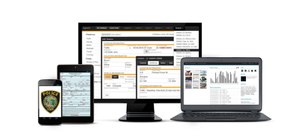 TULLAHOMA, Tenn. - Agisent Technologies, Inc., a leading developer of software solutions for law enforcement and public safety, today announces the release of its RMS ONE records management system.
"For far too long, advanced technology and automation have been out of reach for small law enforcement agencies," states Agisent's President, David Lutfy. "Existing solutions utilize inferior technology or are priced way beyond agency budgets. RMS ONE solves these problems with real technology at budget-friendly pricing."
RMS ONE is a small agency version of the company's wildly successful larger records management system, Platform RMS.
"This is not a stripped-down version," continues Agisent's Lutfy, "instead, we bundled the core modules that every agency needs into a powerful, easy-to-use, cost-effective solution."
RMS ONE comes standard with Incidents, Arrests, Citations, Warrants, Personnel, RMS, and Reports modules. Also included in the base system are driver's license and registration scanning, medical screener, quarantine and exposure tracking, document integration, incident reporting, mapping, and real-time statistics.
"RMS ONE is fully compatible with the larger Platform RMS system," advises Lutfy, "and additional modules are optionally available, including Case Management, Civil Process, Calls For Service, Drug Control, Evidence, Infection Control, Training, and more."
RMS ONE requires no additional hardware or software purchases, no servers to administer, and no specialized IT staff or resources. It runs on any device with a modern browser and internet connection, supports unlimited users, and agencies can be up and running in less than 15 minutes. A 30-day free trial is currently available to qualifying agencies.
The entire solution is priced starting at $295 per month with no long-term commitments. Grants, subsidies, and promotions provided by the company may be available through Agisent's "No Agency Left Behind" initiative.
Active U.S. law enforcement agencies serving populations of less than 5,000 are eligible to participate in RMS ONE. Larger agencies can contact Agisent for information about the company's Platform RMS solution.
Interested agencies can go to the company's website, sign up, and begin immediately using RMS ONE at https://agisent.com/rmsone

About Agisent Technologies, Inc.
Agisent provides advanced technology solutions that save lives and blow away the competition. They combine a deep understanding of law enforcement and public safety with an unrivaled technology platform bringing leading solutions in the following areas: Law Enforcement, Drug Control, Prosecution, Campus Police, Private Security, and Fusion Centers. The company's core products include: Agisent Platform RMS, ProDocs Secure File Transfer and eDiscovery, Real-time Data Exchange (L.E.X.), and more.

Request more info from CivicEye
Thank You!