PRESS RELEASE
Norwegian Police upgrade to IFS Cloud
---
The Norwegian Police will use the IFS solution to enhance preparedness and resource utilization across the force 
OSLO, Norway — IFS, the global cloud enterprise software company, today announced that The Norwegian Police has upgraded to IFS Cloud to ensure it can provide the country's police forces with the precise resources and assets they need, when they are required.
IFS will replace the existing legacy system infrastructure with a unified national material and logistics system that offers insights into the condition, inventory, and location of equipment and materials, broken down by district, as well as all logistics handling of the material. Once fully implemented, the solution will be deployed to around 25,000 users across Norway.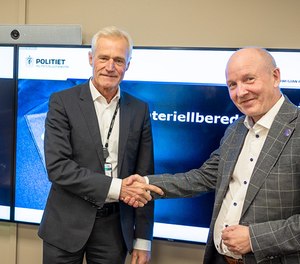 Helge Clem, Director of Shared Services at The Norwegian Police, emphasized the importance of the upgrade, stating, "Upgrading to IFS Cloud marks a strategic shift towards strengthening our asset management and operational readiness throughout the Norwegian Police and our operations. This system underscores our dedication to upholding public safety and trust."
Glenn Arnesen, President of Europe North at IFS, said, "IFS Cloud is well suited for organizations like The Norwegian Police as it has the flexibility to support multiple functions. With this upgrade, IFS Cloud will support PFT on its journey to resource optimization, helping deliver on its ongoing commitment to service excellence and providing a flexible and user-friendly solution that caters to its diverse needs."
The Norwegian Police will utilize five IFS Cloud customer modules: Supply Chain, B2B Commerce, Procurement, Maintenance and Finance, whilst also benefiting from IFS Success Services - a suite of services designed to help customers get the most out of their IFS investment.
About The Norwegian Police Shared Services (PFT)
The Norwegian Police Shared Services (PFT) is the Norwegian Police's national competence and service centre. The PFT gives the Norwegian police tools to prevent and combat crime. Every week, it provides services in key areas such as materials and logistics, real estate, procurement and legal services, payroll, accounting and communications. These shared services are central to the development of a unified police. The PFT has around 420 employees across the country, with the largest professional environments gathered in Oslo, in Gran municipality in Hadeland and in Kristiansund. PFT helps ensure that the Norwegian police are equipped to meet tomorrow's crime challenges. For more information, please visit https://www.politiet.no/om-politiet/organisasjonen/sarorganene/pft/
About IFS
IFS develops and delivers cloud enterprise software for companies around the world who manufacture and distribute goods, build, and maintain assets, and manage service-focused operations. Within our single platform, our industry specific products are innately connected to a single data model and use embedded digital innovation so that our customers can be their best when it really matters to their customers - at the Moment of Service™. The industry expertise of our people and of our growing ecosystem, together with a commitment to deliver value at every single step, has made IFS a recognized leader and the most recommended supplier in our sector. Our team of over 6,000 employees every day live our values of agility, trustworthiness, and collaboration in how we support our 6,500+ customers. Learn more about how our enterprise software solutions can help your business today at ifs.com.