PRESS RELEASE
Kustom Signals announces new patent award in New Zealand
---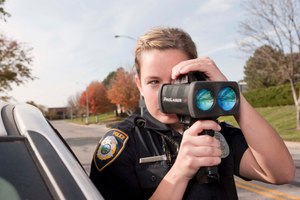 LENEXA,Kan. - Kustom Signals, Inc. is pleased to announce that we have received a patent assignment from the New Zealand Intellectual Property Office on September 1, 2020. The patent protects several features in Kustom Signal's product portfolio including AutoTrak™, Certification Management, and TimeTrak™ as described below.
AutoTrak™ is an automatic camera zoom feature that enables an operator to aim a speed measurement system at a target vehicle and the camera will automatically zoom in or out to optimize the image of the vehicle in the evidence recordings. The result is target specific images or video that best supports the officer's target tracking history.
Certification Management is featured in the LaserCam® 4, ProLaser® 4, Raptor RP-1, and Eagle® 3 and provides an agency with the ability to set a certification date, program a warning period, and to select an action with certification expiration. When the certification expiration date approaches, the speed measurement system will alert the operator that it will need to be certified soon. The operator must acknowledge the message before placing the system into service. Additionally upon expiration, Certification Management features an option to disable the unit from service until it has been recertified.
TimeTrak™ is a programmable Head-up display indicator featured in the ProLaser 4 that alerts the operator that a programmable period of continual speed measurement with target tracking has occurred.
"We are pleased to receive protection on these important tools that enhance our customer's ability to perform target tracking, optimize evidence to enforce, and improve asset management efficienies," said Kent Hayes, Sr. Product Manager – Speed.
About Kustom Signals, Your No Risk Partner:
Established in 1965, Kustom Signals, Inc., an MPD Inc. company, designs and manufactures a complete line of speed enforcement, speed awareness and in-car and body-worn video systems for law enforcement agencies, along with the Contour (mapping laser) product line. For more information, visit  www.KustomSignals.com.
About MPD, Inc.
MPD, Inc. was established in 1987 and is headquartered in Owensboro, KY. MPD's customers include U.S. and foreign military services and their contractors, avionics manufacturers, law enforcement organizations, industrial companies and commercial concerns. For more information, visit www.mpd.com.
About Whelen
Whelen Engineering Australia Pty Ltd is a wholly owned subsidiary of Whelen Engineering Company Inc., based in Connecticut U.S.A. Whelen leads the industry with technical innovations and has the largest design staff in the field, all dedicated to producing products that people count on when lives are on the line. For more information, visit www.whelen.com.au.
Request more info from Kustom Signals Inc.
Thank You!