5 ways to use LPR to proactively promote public safety
In addition to investigating crimes, vehicle data can be used to address traffic hotspots, pinpoint problem areas and even predict and prevent crashes
---
Sponsored by Rekor Systems
By Rachel Zoch, Police1 BrandFocus Staff
The crime-fighting benefits of LPR are pretty familiar to most folks in law enforcement these days – but how can police and local leaders use this technology to benefit communities in other ways? Police1 sat down with experts from Rekor Systems to explore five potential strategies for using vehicle recognition technology and connected vehicle data through the Rekor One platform to proactively promote public safety.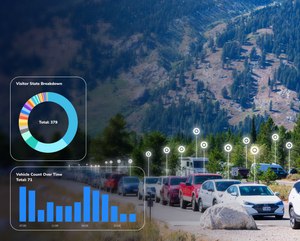 1. Track traffic volume and trends 
An LPR system like Rekor that includes video can be used not only for the identification of and alerting to vehicles of interest, but also to collect information about the flow and classification of traffic. Using LPR to understand how traffic moves (or doesn't) in your jurisdiction can help your agency target traffic hotspots. You can then place signage or officers at dangerous intersections to improve flow and act as a deterrent against reckless driving and to help calm traffic.
"The technology has expanded from just a license plate reader system into what I would consider a roadway information solution," said Chris Kadoch, chief technical officer for Rekor. "The Rekor One system can determine the rates of flow and the speed of the vehicles moving through. You can tie that into dynamic message boards on the side of the road, where you can slow traffic down by alerting them that there's some congestion up ahead for dynamic management of traffic."
This information can prove invaluable for road safety and traffic management, says Paul-Matthew Zamsky, Rekor's vice president of strategic partnerships, especially when it comes to regional collaboration among law enforcement agencies and departments of transportation.
"Think about traffic control, transit priority, emergency response prevention," said Zamsky. "All these types of things could really be a big part of incident response, not just what's happening there at the scene for law enforcement."
For example, the Louisiana Department of Transportation and Development has partnered with Rekor for a Rekor One pilot program to help reduce congestion and collisions in the Baton Rouge area and improve safety on some of the region's most dangerous sections of highway.
A system that tracks vehicle types can also provide valuable information to help discern infrastructure needs, such as whether your community should install electric charging stations and where, based on how many electric vehicles are driving in and through your jurisdiction. You can also analyze the data for commercial vehicles and tonnage to gauge when local roadways and bridges need maintenance to comply with department of transportation maintenance rules.
2. Identify incidents as they occur
Vehicles today are heavily computerized, and many can transmit data in real time, such as direction of travel, speed, hard braking, swerving and more. In 2021, Rekor Systems acquired Waycare Technologies, whose cloud-based system gathers roadway data from these connected vehicles and processes it to support real-time traffic and incident management.
This immediate reporting through both the LPR video and vehicle data equips public safety agencies with better visibility of what's happening on the roadways so they can identify incidents as they occur – and provide a faster, better equipped and informed response, says Zamsky.
"The primary goal is really to identify these incidents, clear the incident or obstruction and return to normal traffic flow as quickly as possible," he said.
Zamsky estimates that for each minute a roadway is closed, it takes about four minutes to resolve that congestion. In addition, he says, the chance of secondary crashes increases with each minute that goes by, and those secondary crashes, often involving public safety and emergency vehicles, can be more deadly than the primary incident.
"We saw, on average across our clients, about a nine-minute faster incident identification, which means 36 minutes saved on congestion per incident," he said. "Not only that, we're seeing 21% more incidents being detected."
The system can also generate safety alerts, determine wrong-way vehicles, flag dangerous speeds and indicate the presence of Amber Alert and Silver Alert vehicles.
3. Predict and prevent incidents 
Roadway data can help your agency do more than respond faster. An AI-enabled platform like Rekor One can also help you identify long-term problem areas using historical data, as well as predict and prevent future incidents in the near term, based on real-time data. The Rekor system uses AI and machine learning to compare what's happening now, using the real-time input from roadway video and connected vehicle data, against existing data to predict where problems might arise in the next few hours. This means your agency can take preventative action to stop incidents before they start.
"We're taking historic data and building a model that's looking at the crashes, hotspots, construction, event management, traffic, everything that basically will give us an insight of what was happening at the time when an incident happened over the last three to five years," said Zamsky. "And from there, we create a model that generates a dynamic output that is telling us in real time, these are the zones that are likely to have a crash over the next three hours."
By positioning police officers in and around the at-risk areas flagged by the system, he says, it's possible to reduce primary crashes by almost 20%. Waycare did a study of its customers' data and found that the presence of officers in an emerging hotspot resulted in nearly all speeding drivers slowing down to the speed limit, as well as improved throughput at those locations.
"This is really exciting, because we saw suddenly that by using data, we can actually try to work on better resource allocation and see how this can help agencies make better decisions, not just rely on anecdotal evidence or historic stats," said Zamsky. "We're trying to be as dynamic as possible. We think about it as real-time incident detection. We don't want to just run on historic statistical data as the sole source for that crash prediction."
4. Support contactless compliance
The Insurance Information Institute estimates that nearly 1 in 8 drivers in the U.S. are uninsured. In addition to the financial burden on other drivers, this means states are losing out on revenue that could be used to fund public safety investments.
But auto insurance and vehicle registration compliance rightly take a backseat to traffic and criminal enforcement for police agencies. Many jurisdictions squeezed by budget and staffing challenges simply don't have the resources to spend time pulling over suspected scofflaws who haven't bothered to keep up with these regulations.
Just as there are hotlists for stolen and wanted vehicles, the data for drivers who have let their insurance or registration lapse can be added to a list for your LPR system to check. When a scofflaw vehicle is spotted, the system can automatically generate, according to local rules and regulations, a mailed ticket, warning or other notice to remind the driver to comply with the relevant law.
"Those crimes still have to be enforced, otherwise it's a free-for-all," said Kadoch, "and having a system that can do contactless enforcement frees the officers up to be able to focus on more serious offenses. It allows them to cover more to territory without tying up officers."
The state of Oklahoma, where nationwide studies have estimated that up to 1 in 4 vehicles are uninsured, has adopted the Rekor One LPR platform as part of the state's Uninsured Vehicle Enforcement Diversion Program.
The Oklahoma program uses Rekor's Public Safety & Contactless Compliance technology to identify uninsured vehicles on the road. To help ensure that all drivers have at least the minimum required amount of liability insurance, the state's enforcement division issues a "Notice to Respond" to uninsured motorists flagged by the system, encouraging the vehicle owner to get insurance and comply with the law to avoid penalties, including fines, fees and even imprisonment if cited on the road by a police officer.
5. Break down data silos 
As in the Oklahoma program, the modular Rekor One platform can be used to share information across agencies and deliver information to the appropriate users, such as police, city planners, departments of transportation and more.
"We really emphasize unified command and cross-agency collaboration," said Zamsky. "We work with a lot of different agencies, and what we've seen is that there's typically a significant breakdown in communication between the DOT, law enforcement agencies and emergency services. Each has their own jurisdiction and scope of work. Each has their own way of looking at things."
Using an interoperable system like Rekor One can help your agency not only share data between existing programs and departments but also collaborate more effectively with neighboring jurisdictions and other public safety partners. This helps all the involved agencies work together to resolve problems and incidents in the safest, most efficient way possible, both for the commuters on the road and for the safety of the responding personnel, says Zamsky.
Kadoch describes the Rekor One platform as a central hub for storing, accessing, analyzing and sharing identified and de-identified vehicle and incident data. This provides the conduit to carry the data from the roadways through to the various users, as well as the analytical tools to process the information in different ways according to their different needs.
"We call it Rekor One because it's a central home for lots of information from different sources that gets reprocessed and transformed to serve a whole bunch of different missions," said Kadoch. "It takes the information from the roadway or from the connected vehicles and reprocesses that information and then presents it in a form that's tailored to what the user really wants as an actionable solution."
The key is that the information is processed and customized for what the user is trying to do with it, he adds, and then provided via dashboards specific to law enforcement, the department of transportation, local government, etc.
"In a nutshell, it's smarter, safer roadways," said Kadoch. "This was part of the reason Rekor acquired Waycare – now departments have more sources of information. The more you understand about what's going on through real-time and historic data, the better you can collaboratively react to and plan for the future."
Visit Rekor Systems for more information.
Read Next: LPR in the palm of your hand? There's an app for that

Request information from Rekor
Thank You!