Aggressive Driving Enforcement Campaign Targets NE States
---
DBC Technology helps with Tailgating Enforcement
We have all seen that driver, the one who zooms past, weaves in and out of traffic, and tailgates only to slam on the brakes. Maybe you have been that driver.
Maryland and a few other states like Pennsylvania and Virginia are part of the Smooth Operator campaign which targets aggressive drivers. This program has become a model program nationwide and continues to grow every year. In 2010, the campaign was stepped up and more than 510,000 citations were given out over the year.
The Wall Street Journal article - "Honk if You're an Aggressive Driver " 6-2010 states, "Last year, police officers in the state [Maryland] wrote 207,000 tickets for aggressive driving, says Vernon Betkey, head of the state's highway safety agency. The most recent crackdown started earlier this month."
So do drivers drive less aggressively if they know the law is watching? Data from Maryland suggests that even with the "stepped up" enforcement the tide hasn't turned. "In 1999, the state attributed 3,113 crashes to aggressive driving, or about 3.2% of all crashes. In 2008, Maryland linked 6,111 crashes, or about 6.4% of all crashes to aggressive driving."
Do you know why? If they did a targeted campaign to focus primarily on tailgating, they could easily add an additional 200,000 tickets. Doing so might help deter aggressive drivers further. Tailgating is by far the most dangerous attribute of most drivers let alone an aggressive driver.
Laser Technology Inc., has developed a patented software code that offers a unique measurement calculation unlike any other laser on the market.
Called DBC (Distance Between Cars), it calculates the time and distance between two moving vehicles when one is following the other in the same lane. The UltraLyte 100LR laser with DBC makes these measurements possible and instantly validates the visual determination of the officer. This technology can now quantify the violation, something law enforcement has been missing.
Up until now, it was a judgment call or educated guess by the arresting officer and subject to counter testimony. Those days are gone because science & mathematics will make for an air tight case. Every time.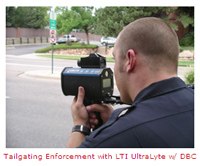 Request more info from Laser Technology
Thank You!