PRESS RELEASE
RoboteX Announces EOD Robot Assessment Results
---
In December 2013, RoboteX participated in an EOD Robot Assessment set up by the Michigan State Police Bomb Squad.  Along with RoboteX, there were eight other robotics systems tested. Those were iRobot, QinetiQ, Remotec, ICOR, NIC, Black-I, Boston Eng Corp, and Cobham Mission Equipment. There were four different testing situations that each robot had to go through.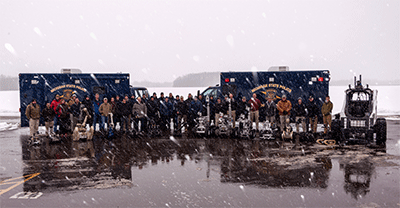 We have no report on how the other systems performed, but we are able to tell you that the RoboteX Avatar completed every one of the 20 tasks assigned.  The tasks included getting into a car and removing a suitcase, opening the back of a box truck and looking inside. Opening the door on a SUV and getting into the glove box, and also removing an 18 pound propane tank from the back of the SUV, opening a standard height mailbox and removing an item, and firing a PAN disrupter at a target package on a 55 gallon drum.
This high performance, low cost EOD robot stood toe to toe with the heavyweights.  The Avatar's portability and extremely fast set up time were advantages that weren't tested at this location, but those qualities add to the value of this product.

For more information, visit www.RoboteX.com.